Introduction
It appears that the recent release of NIVIDA's 9-series of video cards has caught AMD a bit flat-footed with seemingly nothing in the pipe to counteract the 9-series performance. This has forced AMD to do the only thing left to them and cut the price of their video cards so as to compete on a price vs performance basis. This may not exactly be good news for AMD stockholders, but it does mean that their cards are now even a better deal than ever! Better still many retailers are left with 'older' NVIDIA 7-series stock and the only way to move them is slash prices right along with AMD prices.
Due to these price cuts a very, very interesting head-to-head competition has arisen in the all-important $250 to $300 market. To be specific you can now find heavily overclocked, custom GeForce 770 cards for under $300 and you can find heavily overclocked, custom AMD R9 280X cards for under $250. Both of these cards used to command a lot more than this and both may just be the ultimate 'steal' for consumers. However, this begs the question on which option is the better deal: a $250 AMD or a $300 NVIDIA card.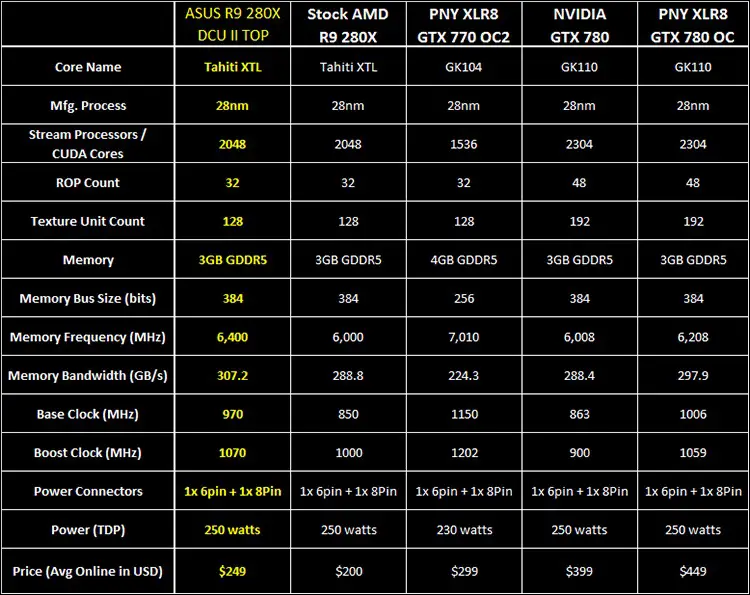 Not that long ago we took a long hard look at the PNY GeForce GTX 770 OC2 video card and walked away very impressed – you can read here for the complete run down on it (xx insert URL link). Considering this card now goes for a lot less than it did when we reviewed it, deciding to use it as the "team green" option took all of 0.2 of a second. For AMD we are going to look at one of the best examples of what the HD7970 GHz Edition 2.0….err AMD Radeon R9 280X is capable of. To specific we purchased an ASUS Radeon R9 280X DirectCU II TOP edition video card that goes for about $250 retail.
The ASUS Radeon R9 280X DirectCU II TOP was chosen as it not only comes with a very impressive factory over-clock, but also comes with ASUS' extremely impressive DirectCU II custom heatsink. For all intents and purposes the AMD R9 280x is a slightly refined and modified HD7970 GHz Edition. That means it is a 28nm Tahiti XTL core based video card which has 2048 stream processors, 32 ROPs, and 128 texture units. This is then backstopped by a massively wide 384-bit bus, topped with 3GB of GDDR5 memory at 6GHz, and has been given the luxury of a TDP of 250 watts. ASUS has taken this and cranked the dial to 11 – just like PNY did with their GTX 770 OC2 – with a much better heatsink, downright robust voltage subsystem, and a factory overclock on both the RAM and GPU side of the equation.
Because both are great examples of their respective architecture by the end of this review you will have a very good idea of what the strengths and weaknesses of both AMD and NVIDIA's sub-$300 offerings truly are. Once armed with this information you will be able to make an informed decision of whether spending more – or less – money is the best solution for your needs.