Very recently we had the privilege of taking a long hard look at the Innokin Endura series and walked away very impressed at how much that vaping system offered first time users. Put simply they are a wonderful option for people who do not want to mess with any advanced features, and rather simply want a quick, painless way of quitting smoking. Unfortunately, this simplicity and ease of use comes at the expense of options. Options like adjusting the vaping experience via Temperature Control or even variable wattage modes. Options like not being able to use any off the shelf tank you want. Options like having an integrated information display. Basically, the Endura series is not meant for advanced users or even those who like to tweak things.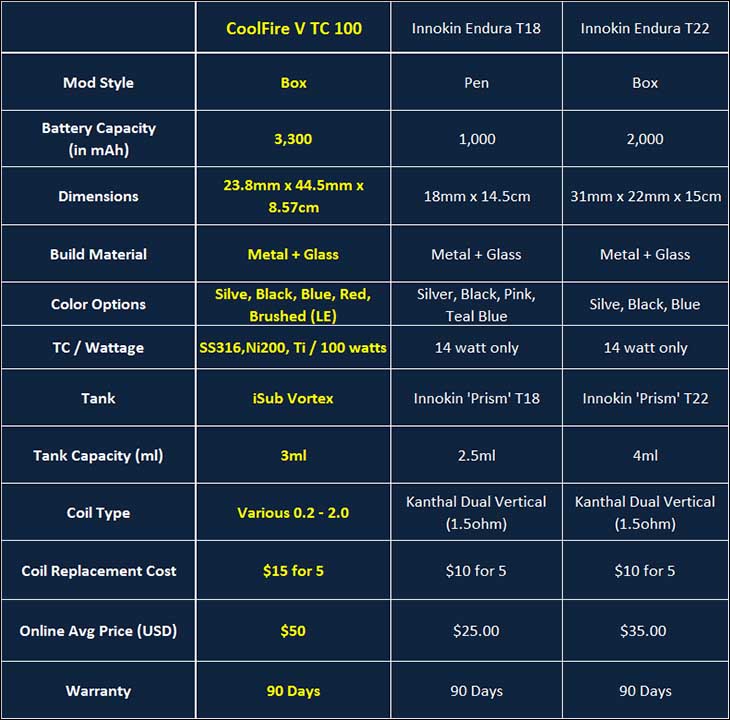 That is perfectly fine as the Endura's design philosophy was never meant to cater to these people. Well for these more advanced beginners Innokin offers another model: the CoolFire series. The latest version is the CoolFire IV TC vape system. Today we will be deep-diving into the CoolFire TC 100w model, specifically the Brushed Limited Edition. As the name suggests the CoolFire series is meant to bring a bit of wow factor (or Coolness so to speak) to vaping and give you the end-user a lot more oversight and adjustment to your vaping experience.
In the coming pages we will go over exactly how Innokin does this and what the strengths and weaknesses of this more advanced system is. Suffice to say, for the time being, the CoolFire IV TC 100 does offer a lot more… but does cost noticeably more. To be precise this all in one vape system has an online average asking price of $50 – or twice the cost of the Endura T18.
We personally think that this increased cost may indeed be worth it, as the iSub Vortex tank alone is worth the extra $20! But as with all things in life just because we think it is worth it does not mean you will. As such the goal of this in-depth review is not to prove to you why we are right; rather it is to give you all the pros and cons of the CoolFire IV TC series so that you can make an informed decision on whether or not its abilities align with what you want. After all, not everyone cares about Temperature Control or having more (and sometimes confusing) options. Maybe you just want a dead simple device. By the end of our walk through of the CoolFire you will have a good idea if this system is right for you or not. We do however think a lot of people will like what the CoolFire IV has to offer.