It certainly is a wonderful time to be a PC enthusiast. Not only is the amount of computer and graphical horsepower available at an all-time low, so too is the cost of super-fast storage that can take advantage of all that horsepower at an all-time low. One need look no further than the Crucial MX300 1050GB Solid State Drive for proof of this.
This SSD not only breaks the Terabyte barrier it also breaks the barrier of entry with an asking price of only $260 – or 25 cents per Gigabyte. Not that long ago a 1TB Solid State Drive would set consumers back a heck of a lot more than that and would not come with as much performance, or durability, as the MX300 1050GB offers. To be precise in addition with the usual SATA saturating sequential speed, this drive boasts a decent 92K/83K IOPS and has a Total Byte Written rating of 320TB or constantly writing over 29GB a day for three years straight.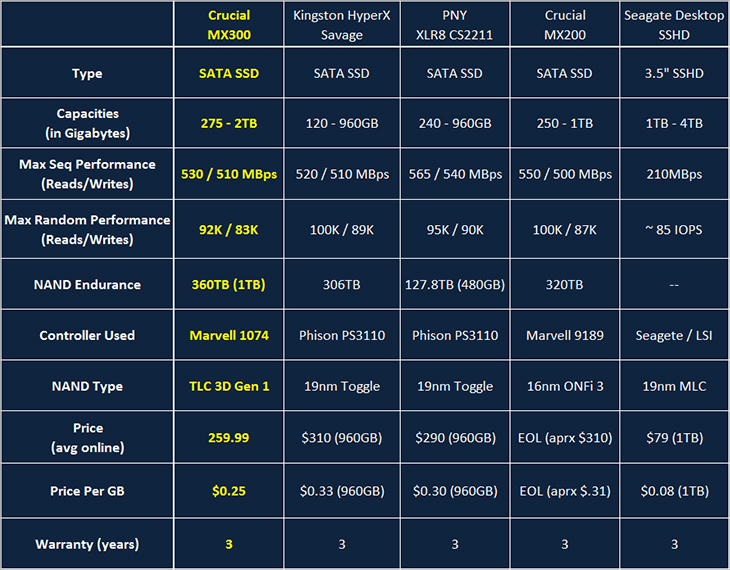 The secret to the MX300's ability to offer all that at this price is the new NAND it uses. Unlike any Crucial branded drive releases the MX300 makes use of cutting edge 3D NAND instead of 2D NAND. In a nutshell this means the NAND is not laid out in a single two dimensional plane and rather is built like a high-rise apartment. This not only dramatically increase the density of a NAND 'chip' but reduce the cost per Gigabyte of said NAND. This combination is why Crucial can offer a two Terabyte Solid State Drive that can fit inside the typical 7mm z-height "2.5-inch" chassis.
While we would love to be able to show you what a Two Terabyte (actually 2.1GB) Solid State Drive can do, we have done one better and will be showing how far $520 can go these days via two 1050GB MX300s in a simple RAID 0 array. So buckle up, and get ready for lift off as we take over two Terabytes worth of cutting edge storage for one hell of a joy ride.