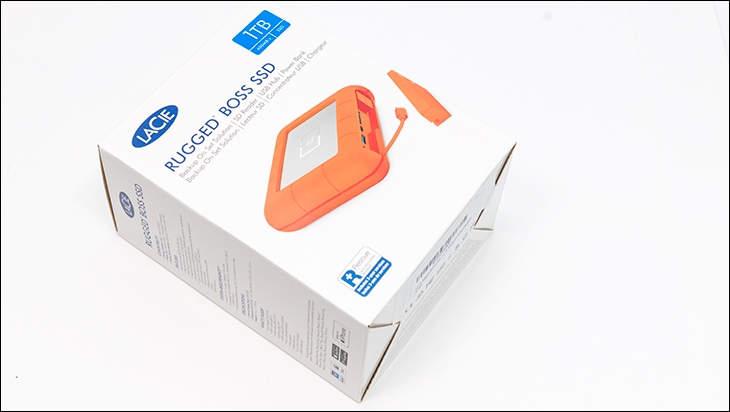 The shipping container is indeed a modern LaCie-Seagate hybrid shipping container… just bigger. Here there is truth in advertising, as when you pick this relatively large box up and feel its heft you know it is not the typical device meant for home users. This alone instills a sense of seriousness that itty-bitty boxes just do not. This is a good thing as just about everything about the BOSS is a serious overkill for home users and not meant for even the prosumer market. Instead is for professionals.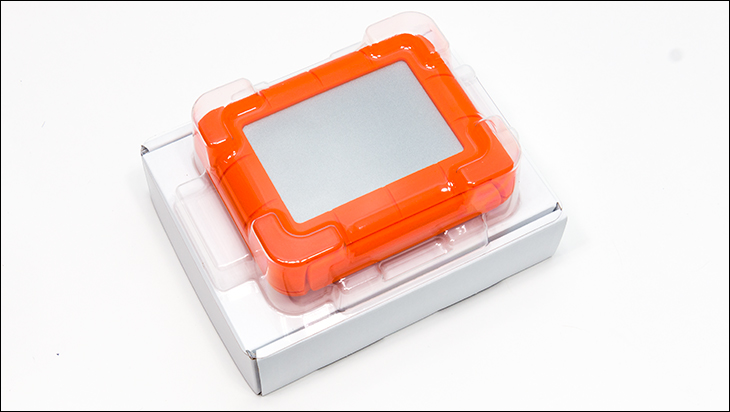 The internal protection based on a cardboard box and clamshell combination also underscores this opinion.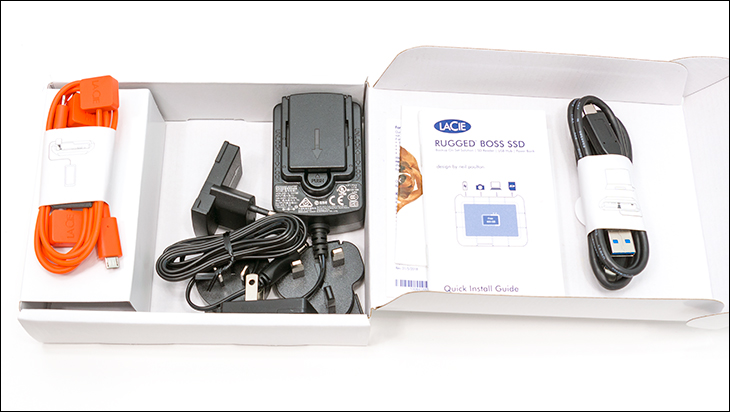 Though the best example of the extremes LaCie is willing to go to prove that this is a model meant for professionals is the sheer number of accessories that are included. Yes, the basics (like an installation pamphlet and cables) are included… they are just taken all the way to eleven. Though let us start with the least unexpected.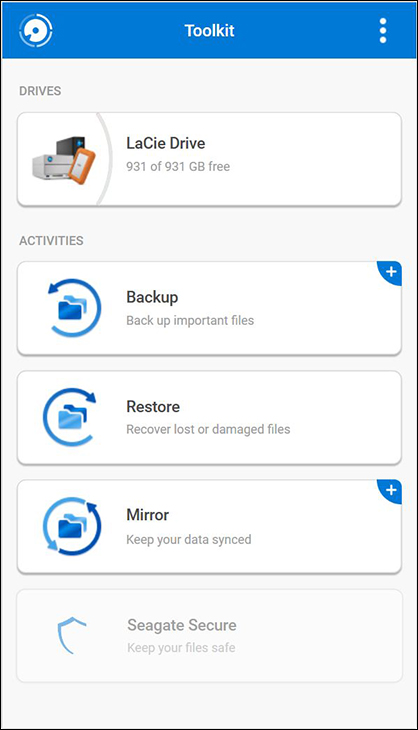 While it may only come with a three instead of five-year warranty, each and every year includes Data Recovery for free. The only fly in the ointment is that it is good for only one free in-lab recovery (after that you have to buy a new plan on your own dime). Mix in a free one-month complimentary membership to Adobe Creative Cloud All Apps Plan (MSRP of $53) and the Rugged BOSS SSD certainly comes with an excellent assortment of software accessories.
The very fact that data recovery and over fifty dollars' worth of Adobe goodness included is the least impressive part of the accessories should set the stage nicely. Usually, with portable storage solutions, people expect to find one or possibly two cables, maybe even an adapter. The LaCie Rugged BOSS SSD does not include two or even four. It comes with five cables.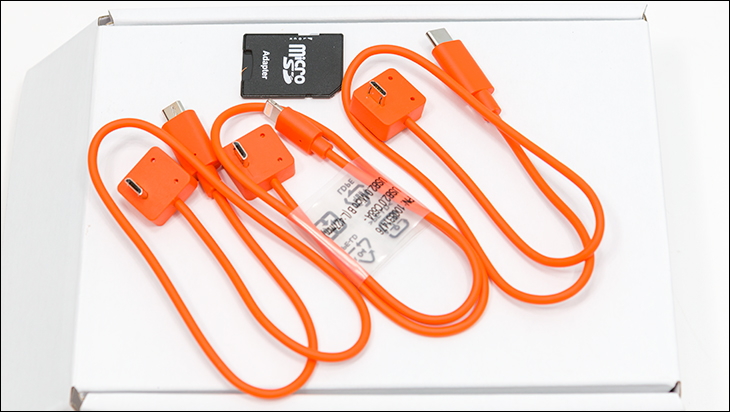 Most of which are 90-degree header style cables. These orange cables are USB Type-C to Type-C, USB Type-C to Type-A, and a Thunderbolt 3, and are meant to be the main connection cables used with the BOSS. These three alone cover off nearly all the bases nicely, and with just these three you can connect to Android, Apple, or PCs easily. However, professional cameras are still rocking a lot of micro-USB ports and that is why the fourth is included (Type-A to micro-USB to be specific). As Type-C is becoming the de-facto standard LaCie then throws in a thicker, black-clad 'backup' Type-C cable which can handle even the harshest of conditions and highest bandwidth devices with ease.
LaCie knows that professionals travel around the world on a near-constant basis. That is why the power adapter (for charging the integrated LiPo battery) does not just come with one or even two swappable heads… it comes with four and covers the typical plug standards found around the world.
If all that was not enough LaCie also includes a microSD to SD adapter. This is a nice touch, but we are unsure why it is not a UHS-II capable adapter. Yes, most micro-SD cards are the slower UHS-I type, but as the integrated SD card reader is UHS-II compatible this does seam like a slight misstep. Thankfully, most UHS-II microSD cards come with a free adapter… and those that do not are 100 percent backwards compatible with UHS-I adapters (like the one included). Also on the positive side, in testing, this SD card reader will be more than up to the task of any SD card on the market. Using everything from SanDisk to no-name cards all transfer speeds were within the margin of error compared to using a Sony QXD and SD (UHS-II certified) card reader with a 'real' portable computer. This is why even though the Rugged BOSS SSD is big for an external storage device it is smaller and lighter than a laptop.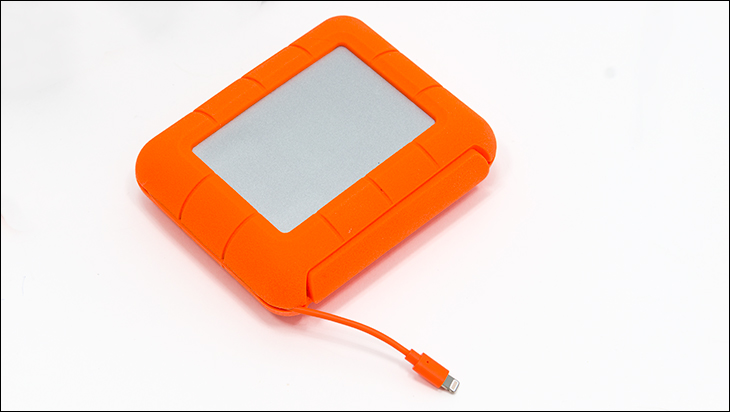 Before we move on, there is one other quirk that we need to point out. The included 'orange' 90-degree cables are thin. They are thin because they are meant to be wrapped around the horizontal axis of the LaCie Rugged BOSS SSD and left plugged into the BOSS at the same time – even when transporting the BOSS to the set. So they have to be thin. While thin they are more than capable of handling the needs of the SATA SSD housed inside this BOSS SSD, but they are not going to be optimal on NVMe based models. We personally would do what LaCie (obviously) wants you to do and wrap one of the orange ones around the horizontal axis and then wrap the black around the vertical axis.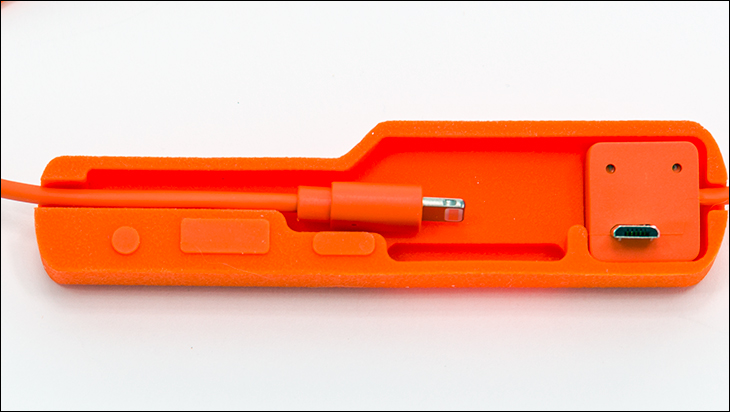 On the positive side LaCie spent a lot of time and effort on these cables and the large silicon rubber cap that covers all the ports. As you can see this cap is meant to work hand in glove with those orange cables. This level of detail means you will leave the 'proper' orange cable attached to the Rugged BOSS SSD and never be without at least one cable.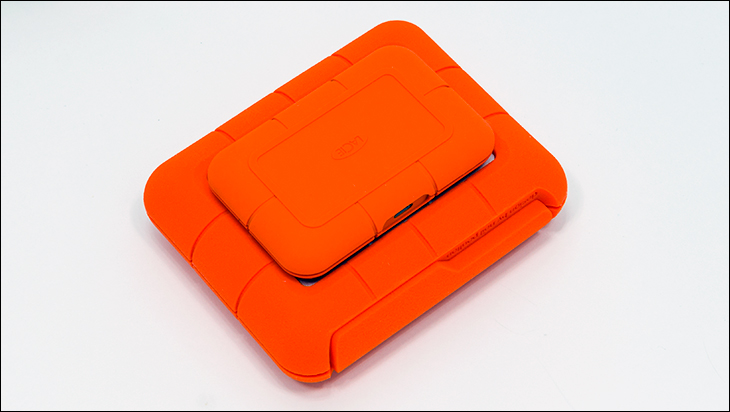 Moving on. The LaCie Rugged BOSS SSD is big. It is so big that the LaCie Rugged SSD series can sit on top of it and not really touch much of the orange rubber outer case. On the positive side, this orange sleeve is easily removable. So if orange really does not 'do it for you' you can remove it. Of course, if you do so you will no longer be able to drop this device 1.2meters and have it laugh off the fall.
Though considering the chassis is mostly a metal construction it probably will survive the fall. It just would not look as pretty after the fact. That actually is the benchmark LaCie uses when rating their drop height. Not 'will it still work' but 'will the aesthetics be marred beyond moderate levels if dropped from X height'. In testing, our sample did indeed survive a 1.2M drop without the rubber sleeve attached and did so with nothing more than two minor issues. The first is the metal chassis did get dinged and scratched. The other… the ribbon cable for the integrated LCD did detach itself. It did not do this when the orange rubber (baby bumpers) sleeve was on.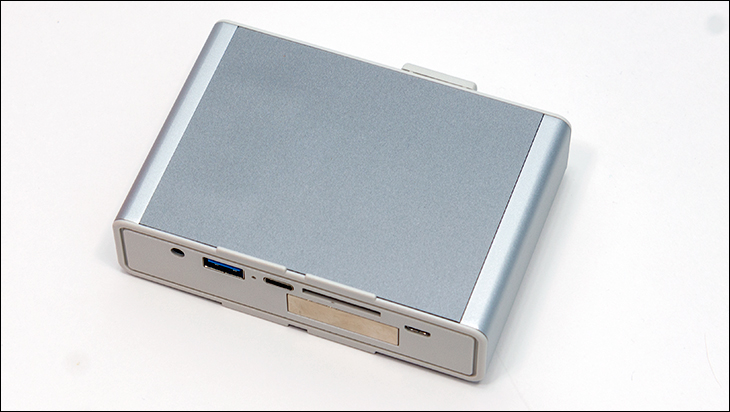 This is not a big deal as opening this beast open is rather easy via copious use of a screwdriver. Thus inserting a… the unplugged cable will only be a few moments to fix. Before we move on the ports of the Rugged BOSS SSD obviously were originally spec'ed out with more card reader options. We say this as there is a large 'cap' on the chassis that suspiciously would fit a CF/CFast and QXD card reader ports.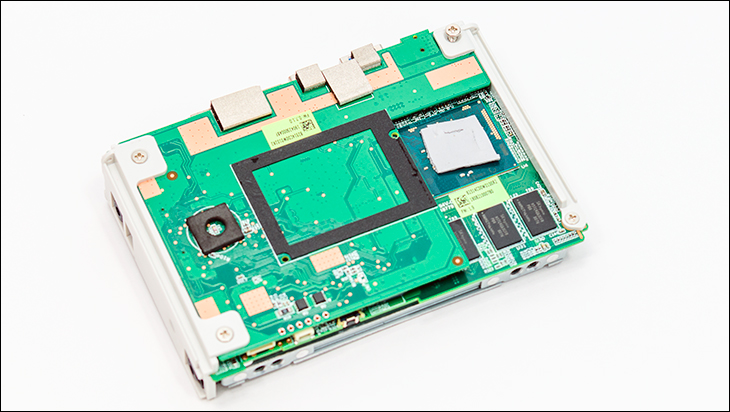 All these ports are why the LaCie Rugged SSD series is not IP rated for either dust or water protection. Put simply, if you drop this in the mud, or a toilet, the screen is probably going to be what dies. That or the LiPo battery pack decides to catch fire. Either would be what we would classify as a 'bad thing'. At this price point, LaCie should have done more on sealing the exterior chassis.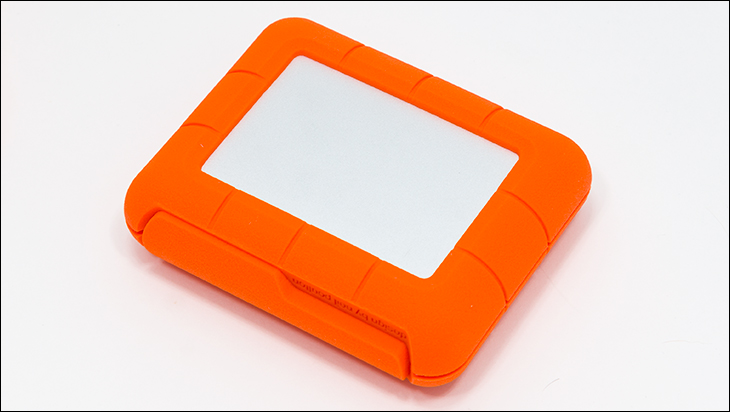 Also on the less than optimal side, while the LCD is indeed protected via clear Lexan in the top of the chassis, it is easily washed out by nearly any light source. Terms like screen glare do not even begin to cover it. So much so… can you tell that it is on and telling us the internal drive is at 50% capacity? This is under typical lighting found at any wannabe photographer's set. Thankfully, simply cupping your hand over the top will let you see the LCD screen. As such we would classify this issue as a quirk, not a deal-breaker.
Falling well into the quirky category is the single command button located on the back. This button works and works well, but as it has to do a lot of commands it is quirky to use. There is a bit of a learning curve. For example, the first press scans for attached devices, a second press (within ten seconds) tells it to copy from say the SD card in the SD slot. At which point a quick third press starts the process, but a long button press cancels it… and you have to start all over again. Two or even three buttons would have been much more optimal to say the least.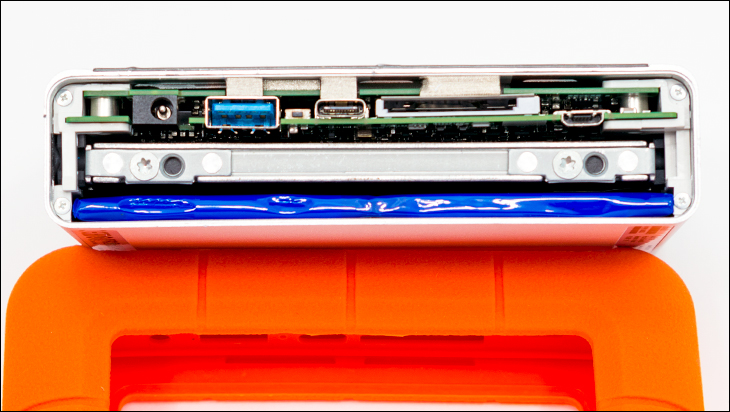 If for whatever reason you do decide to shuck this case and look inside… do not be afraid. There is a lot going on here. Along the bottom edge is the 5300mAh LiPo battery pack. Directly above it is the Seagate BarraCuda SATA 1TB SSD. Above that is the two PCBs. The top most is for the LCD screen and below it is for the Seagate branded SoC, its four SKHynix RAM chips (which act as RAM cache), and the USB TB3 controllers. A whopping 1GB of onboard cache means that even if you only copy small files, you will be hitting the maximum rated speed of over 430MB/s.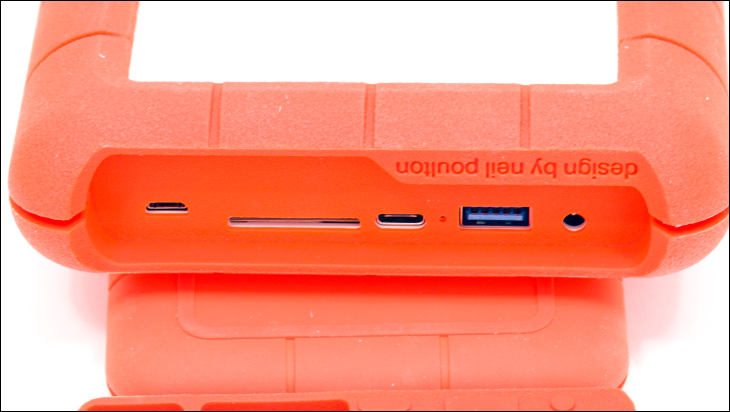 Also on the positive side, the internal LiPo battery is more than capable of providing more than enough power to copy a full 1TB to the internal SSD storage and then transfer it off. It is even more than capable of doing this if you plug in a second USB bus powered external storage device and clone it to this bad boy, and then clone back to the original device. The same is true if you then clone your tablet's storage to it… as we did. Basically, this battery pack is more than enough to last all day long no matter what you use the Rugged BOSS SSD for… just as it should.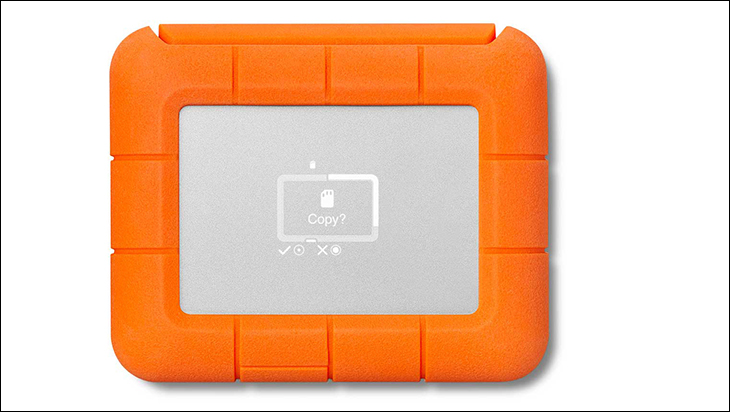 Overall, we can easily see ourselves using this model if we were doing a professional photoshoot in either the jungles of South America… or the concrete jungles of New York. Quirks or no quirks, this device does indeed free a lot of space up in a camera bag for arguably more important things… like a couple more lenses.