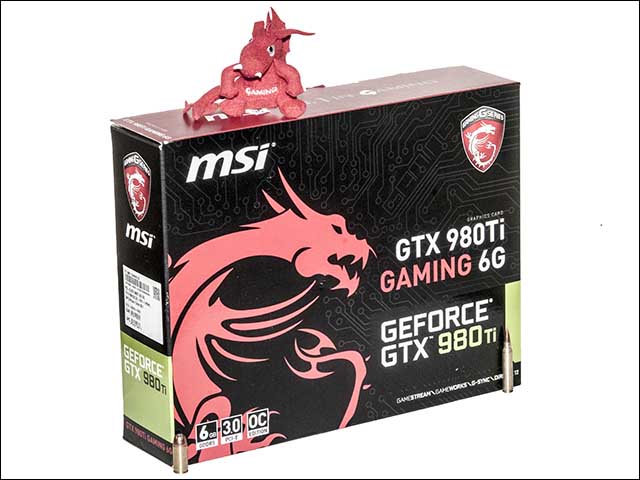 The shipping container for the MSI Gaming 6G GTX 980TI closely resembles most of the other models in MSI's 'Gaming' lineup – including the Gaming motherboard. That is to say it uses a black and red color scheme and along with a picture of the MSI Gaming 6G GTX 980TI itself, a large dragon takes up most of the front's real-estate. The back of the box is covered in details that will help you make an informed decision, and as such it would take effort to confuse one model for another.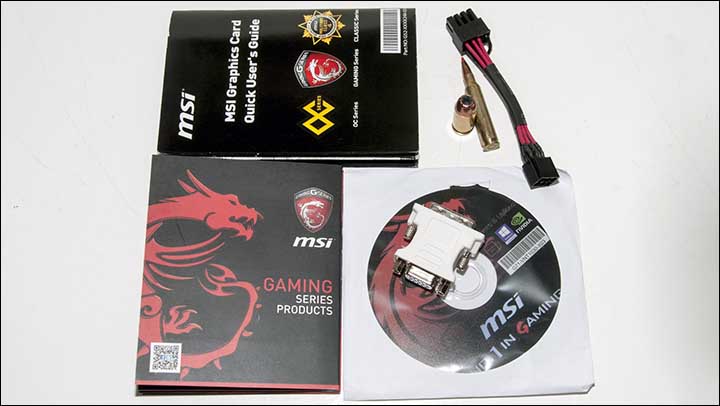 The included accessories are a touch disappointing, but are pretty much par for the course these days. In grand total you get a single 6pin PCI-e to 8pin PCIe adapter, a single digital to analog port adapter, a quick start guide, a CD with the necessary drivers, and a pamphlet going over some of MSI's other offerings.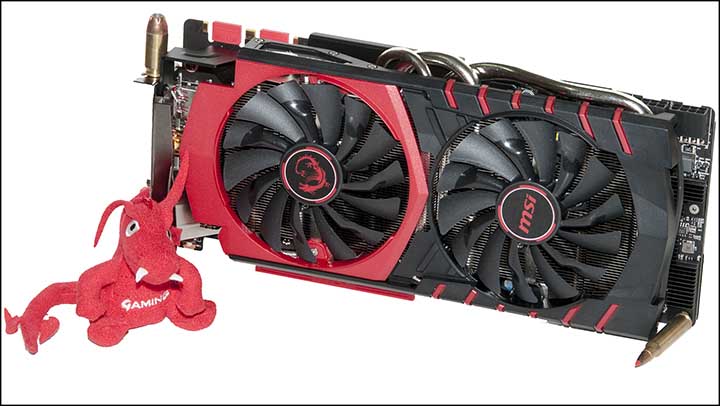 The MSI Gaming 6G GTX 980TI is not your typical GeForce GTX 980Ti card. Nearly everything about it is radically different when compared to a reference 980Ti card; and about the only things that MSI had to leave alone is the number of cores in the GM200-310 and the I/O port selection. Everything else is changed – for the better. The overall aesthetics are much more aggressive, the cooling design is completely different, the underlying power subsystem has been upgraded, the PCB is custom, even the memory and GPU core settings are higher.
This however is getting ahead of ourselves. A stock 980Ti uses the same overall aesthetics and design that really has not changed in generations. That means a metallic fascia covering a heatsink and a single squirrel-cage fan for cooling – which exhausts the head out the back of the system. Overall it is not a bad design, but it is a touch boring and a touch underwhelming in the overclocking potential it offers consumers. Instead its best said to be adequate at cooling a 250watt GPU core and its 7,010Mhz memory.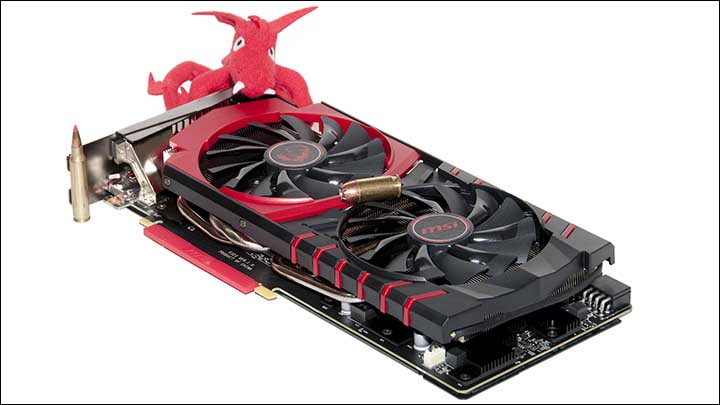 With MSI being MSI and having a reputation for doing things so differently that other companies have had to copy….err pay homage to… their FROZR designs it comes as no surprise that MSI took one look at the reference design and went 'nope'. Instead when you remove the MSI Gaming 6G GTX 980TI from its padded case you will be greeted with a much more aggressive looking card.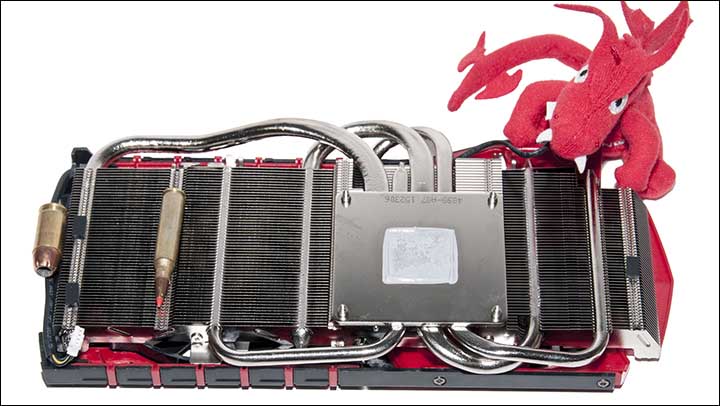 At its heart the MSI Gaming 6G GTX 980TI is the fifth generation Twin FROZR V custom heatsink and fan combination….though MSI now also calls it a ZERO FROZR and Hybrid FROZR. Regardless of what you call it, this custom design consists of six 8mm heatpipes – what MSI calls 'SuperSU' pipes – a massive aluminum fin array, two large fans and two smaller heatsinks. This however does not do this design justice, as while it may technically be a two slot design, MSI has expanded the width of the heatsink so that when installed in a case it stands about 29mm taller than a reference 980TI cooler (to be precise this card is 269mm x 140 mm x 40mm compared to 267mm X 111 mm x 40mm of a reference 980TI). This may make installing it into smaller cases difficult, but as long as your side panel is not right next to the GPU, and instead is pushed out a bit to make room for side panel fans, you will be fine.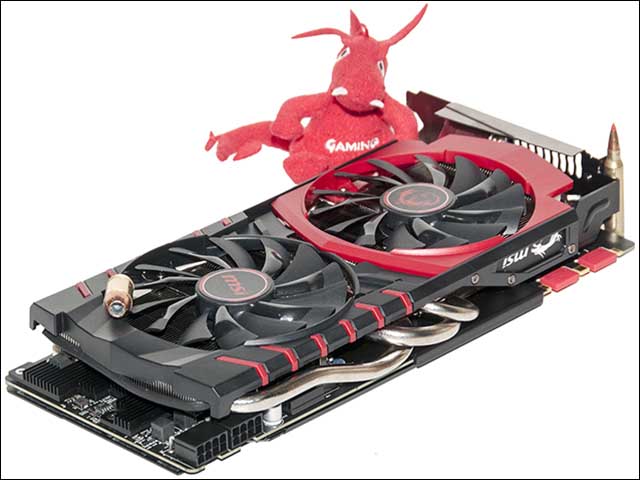 Either way this extra room has not been wasted as it allows for one monster sized heatsink…and the results do speak for themselves on what MSI was able to accomplish on the factory overclock side of the equation. To be precise MSI has bestowed upon their MSI Gaming 6G GTX 980TI' a 178MHz boost to the base clock (1178 vs 1000), 204Mhz increase to the Boost clock setting (1279 vs 1075), and turned the memory clock speed up to 7,100 from 7,010.
Put another way, that is a 1.28% improvement to the memory, and nearly 20% to the GPU. It really is a testament to that custom heatsink that during idle periods the two fans don't even have to spin in order to keep the GPU temperatures in check (thus the 'Zero Frozr' moniker). Of course, this heatsink and fan design will push nearly all that hot air into your case so if you are used to rear exhaust 'reference' designs you will need to ensure your cases internal airflow can handle the extra stress. Most should, but we would not want to try a gaming marathon with this card – or any downdraft video card for that matter – in a 'passively' cooled case. So plan accordingly and you will be fine.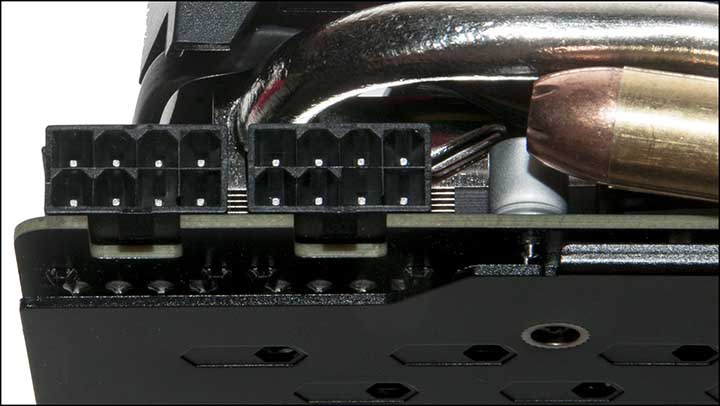 Arguably this overclock is why instead of one 6-pin and one 8-pin PCIe power connector, the MSI Gaming 6G GTX 980TI has two 8-pin connectors. Of course, the overall TDP is still 250 watts, and it could be argued that the upgrade in power connectors is more to aid overclockers rather than required at this factory settings. Either way the additional power certainly will not go to waste.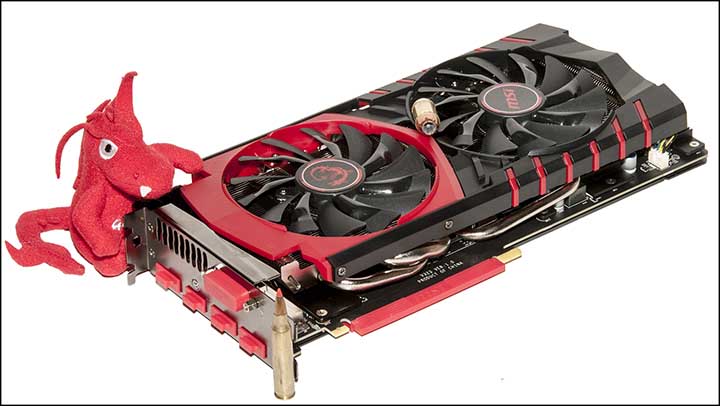 Covering this impressive heatsink is a fascia that is rather eye catching and fits nicely in with MSI's Gaming series. However, while most PC gaming enthusiasts will like the aggressive look of the MSI Gaming 6G GTX 980TI some may find the red and black motif a touch difficult to fit into the rest of their PC's custom color scheme. This issue will vary in importance from person to person, but all should be aware that this 980Ti is big, bold, and does stand out – so plan your custom build accordingly.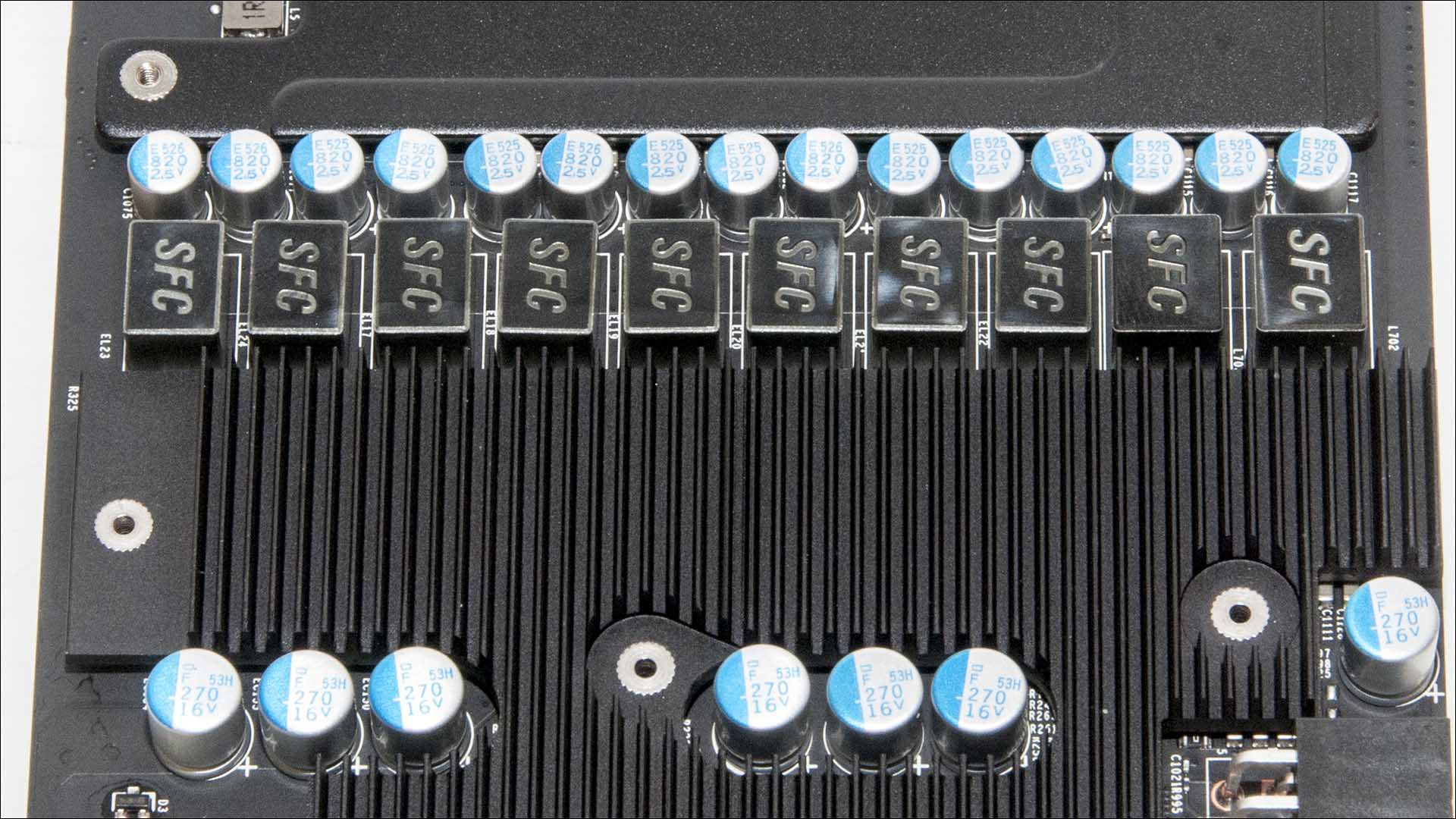 Removing that massive heatsink we can see that not only has MSI upgraded the cooling, but they have bestowed up their marvelous creation a ten phase power delivery subsystem. In fact these are the same quality level – 'military grade' – of components that MSI uses on their enthusiast grade motherboards. That is the very definition of overkill and certainly will come in handy for anyone who wants to push the overclocking to 'extreme' levels. Sadly NVIDIA has forced all manufactures to limit current to 110% so in all likelihood NVIDIA meddling will be the bottleneck and not the MSI hardware.
Further helping to keep the VRM and memory components cool and long-lived, MSI has included two secondary heatsinks that covers most of the board. To further increase cooling abilities MSI has given the forward low profile black heatsink small cooling fins which capture the exhaust air from the front Torx fan. As an aside MSI has given this cooler independent fan control so that each zone of the board is properly cooled, but in such a manner that does not needlessly increase noise. This is one of those 'little things' that show MSI's commitment to detail.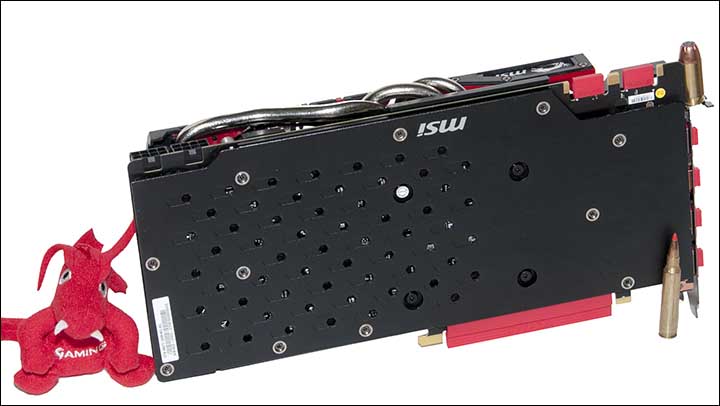 Speaking of attention to detail, we do not hide the fact that we like to see a full length backplate on a video card….and MSI delivers this nicely. Not only does MSI use a thick backplate to increase the rigidity of their Gaming 6G GTX 980TI, its gives the card a very clean look.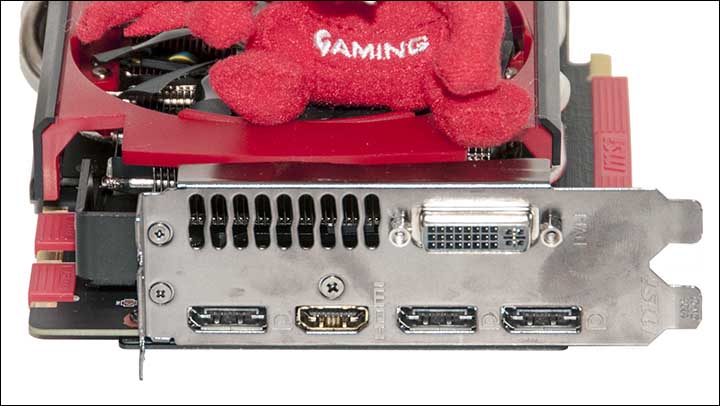 As mentioned previously, the input selection of the MSI Gaming 6G GTX 980TI is reference GeForce GTX 980Ti through and through. On the bottom row you get three full size DisplayPorts, and a single full size HDMI port; while the top row is split nearly evenly between exhaust slits and a single DVI port. Overall it is a very nice selection that should satisfy most consumers needs nicely.