MSI X370 SLI Plus – Closer Look TL;DR
The only main issues anyone will have with the MSI X370 SLI Plus is the lack of integrated WiFi, a 'missing' second M.2 port, lack of U.2 support, and the NIC and soundcard controllers MSI has opted for. Of these only the soundcard and NIC controller are really noteworthy. They are still decent, and we doubt most will care all that much. They are still very decent. Of those who really do care that much they can either spend a lot more for a MSI XPOWER Titanium… or install a daughtercard for an Intel 10/100/1000 NIC, and a dedicated soundcard. Only audiophiles and networking enthusiasts will ever want to do this. All in all that is a very shortlist of complaints.
MSI X370 SLI Plus – A Closer Look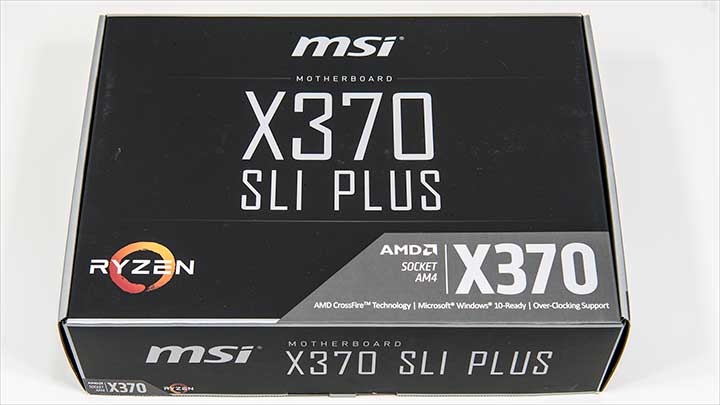 The combination of all black with silver accents really is striking and sure to be attention getting when on store shelves. The only real complaint with this shipping container is the lack of a picture of the actual motherboard on the front. Thankfully the back is not only filled with all the data you will need to make an informed decision but an actual picture of this board. Making it a moot point.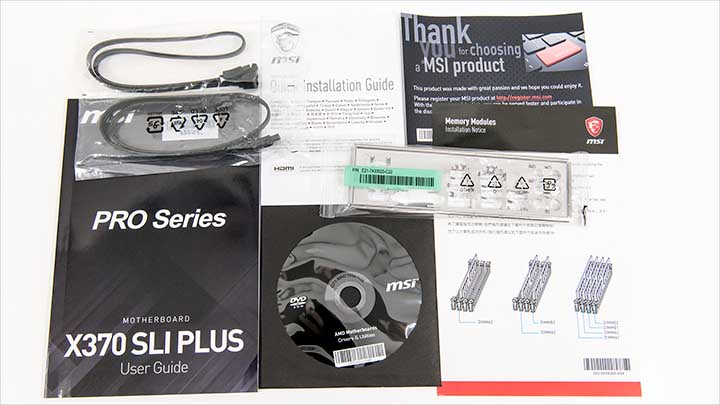 The accessory list is fairly bare bones for an X370 motherboard. Expect to find four SATA cables, non-padded steel backplate, installation manual and… a driver DVD. That is a bit anemic as we would have liked to have seen – at the very least – a SLI ribbon cable. We say this as the PCIe layout is setup to be three slot GPU friendly… and finding those SLI cables is a bit of a PITA.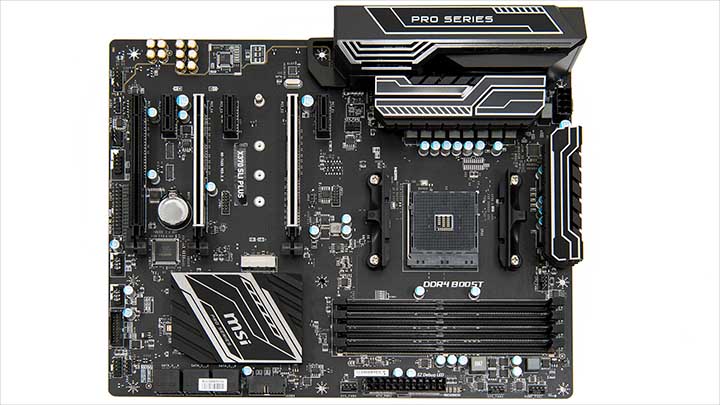 Moving to the motherboard itself your eye will be drawn to a few key features that really show that this board was designed by enthusiasts for enthusiasts. Equally impressive is the layout of all these features is equally impressive with every single feature is easy to use and not just included to tick of a box on a specification list.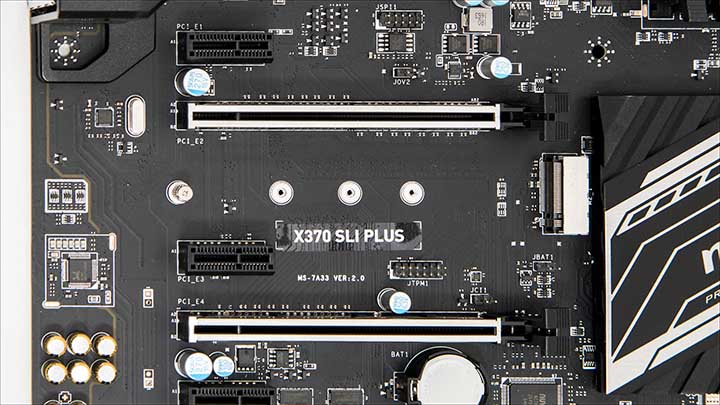 These little touches, like placing the M.2 port in a location that allows for every M.2 SSD made to date – regardless of length – is useable with this port just underscore this attention to detail.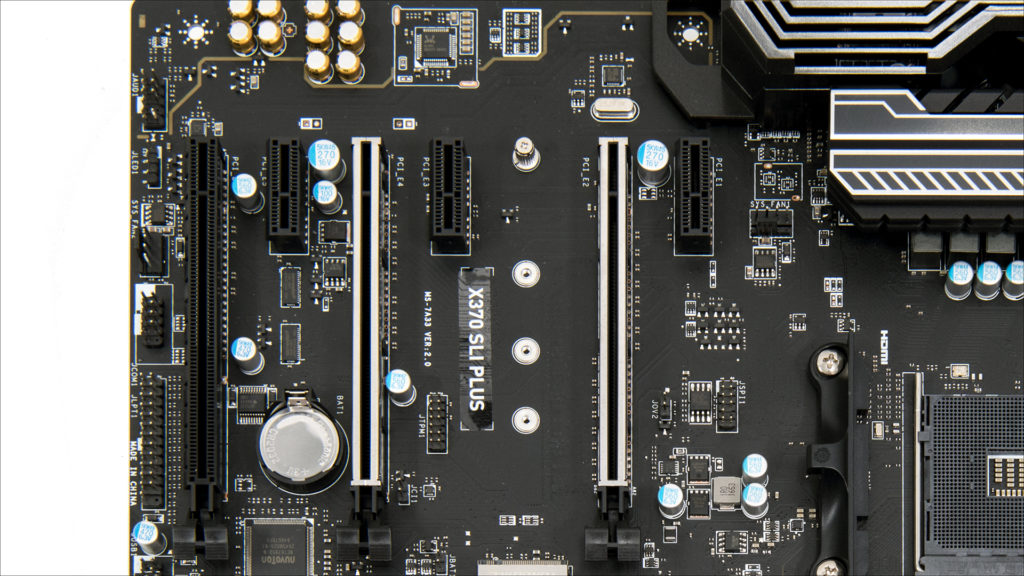 Going hand in hand with this overall impression is that this board was also designed with more value orientated consumers as well. This is a delicate balancing act – trying to please both the performance and value enthusiast – but MSI has done an admirable job at just that. For example that perfectly located M.2 port may be lacking the Steel Armor heatsink/plate that higher costing MSI boards come with but that is a cost cutting measure that should have minor real world impact on the average consumer. Basically, MSI has taken their upper-end X370 boards and paired it back but done so without hurting the overall abilities of the motherboard all that much. There are a few exceptions and a couple of questionable decisions but for the most part the X370 SLI Plus really is a motherboard packed with useable features.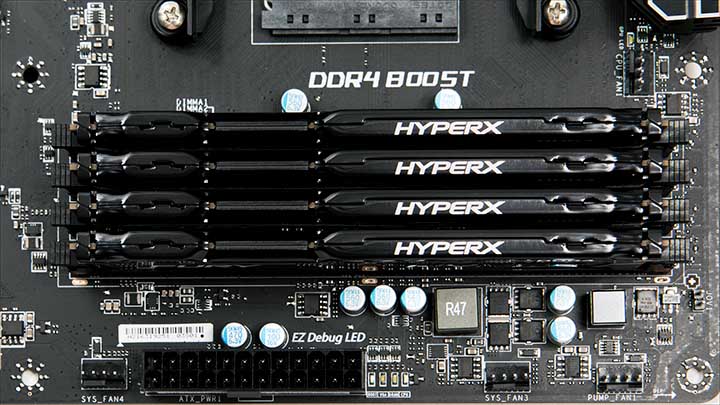 Before we go into details on the features the overall aesthetics do deserve to be mentioned. The combination of black and stainless steel (via Steel Armor coverings) does make for one pretty board, but one that is not too over the top. Equally important is this black pallet really does allow for lots of possibilities for enthusiasts who want to build an attractive custom design. For example, stick all black RAM and a black GPU in there and you have a 'midnight rider' build in the making. Opt for white RAM with a white GPU and you have a nice monotone build that never goes out of style… and this is not even taking water cooling options into the equation.
While we don't have to tell enthusiasts what MSI Armor is… for those who have been out of the PC building game for a few generations what this is and does is simple. Those naked steel coverings on the M.2 port and main PCIe slots reduces signal and EMI interference while also making the slots much more robust and tougher to damage. On this note the only disappointing thing is the RAM slots do not get the Armor treatment… nor does all the PCIe slots get it either. Only higher priced models get the full Armor treatment, but the MSI X370 SLI Plus does have the necessities covered. Once again this is balancing the wants of the enthusiast and the needs of the value orientated consumer so as to cover both groups.
To be fair the reason not all the PCIe slots getting (up)Armor(ed) is actually pretty logical. PCIe x1 slots really don't need it, and the tertiary (and bottommost) 'x16' PCIe slot is not a PCIe 3.0. Rather it is a x1/x4 PCIe 2.0 slot. Actually not covering this slot in metal makes knowing which two PCIe slots should be used first does make a lot of sense – even if it does somewhat diminish the overall look of the motherboard.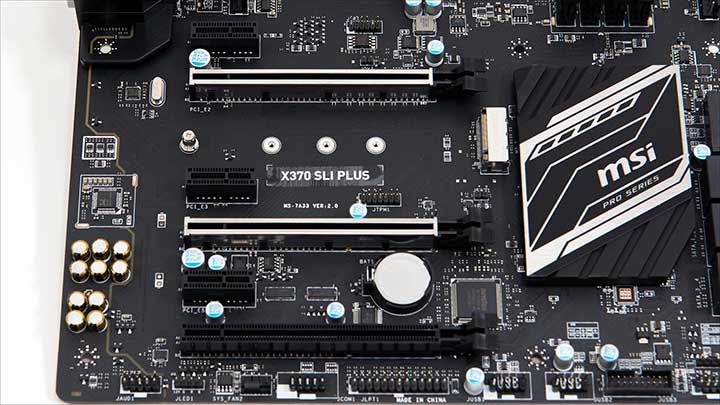 Since we are talking about the PCIe slots let's start there and go over the other features MSI has baked in. First and foremost is the fact that MSI has moved the 'main' PCIe x16 3.0 slot down one spot and in the top most position is one of the three PCIe x1 slots. This move does a couple things. Firstly it creates an 'air gap' between the CPU, RAM and GPU. What this does it allows bigger CPU cooling solutions to be installed without them touching the back of the GPU. It is also makes it easy to install and remove the RAM without first having to remove the GPU. This is why enthusiast grade motherboards almost always sticks a x1 slot at 'top'… as it just makes things so much easier to work with later on down the road when upgrade time comes around.
Next, instead of trying to cram in as many PCIe slots as possible to pad the specifications page MSI has instead taken the more practical approach of using only two PCIe x16 slots and including 3 PCIe x1 slots. We personally dislike it when PCIe x1 slots masquerade as x16 slots like some models do as it can be confusing to consumers on exactly which slots are which. This way you know which slots you need to use and what bandwidth they actually offer.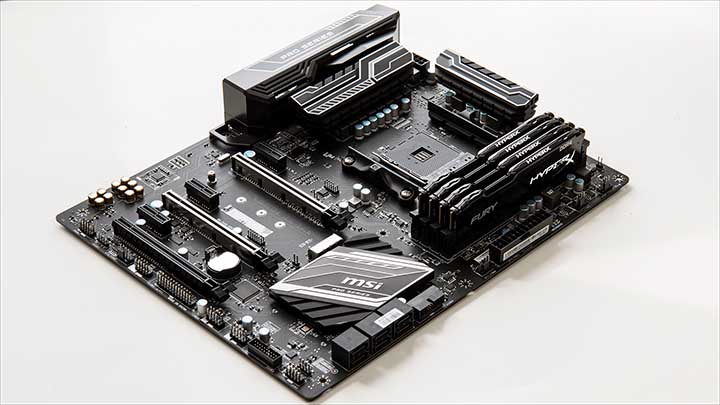 Last but not least, is in addition to moving the main x16 slot down one spot they have also moved the secondary x16 down one extra slot. This has been done so that single, dual, 'two and half', and even mega-sized triple slot video cards will work and allow for SLI configurations. Usually that is impossible as those big coolers simply cover up the secondary PCIe x16 slot and it's a case of 'either/or'. Either you use a smaller dual in the top and only use the triple in the second… or you only use one video card in total. This way you can stick your beast into the top most slot and either use another one right away… or down the road just pickup another when you have the extra cash. This flexibility is also the mark of a true enthusiast orientated motherboard.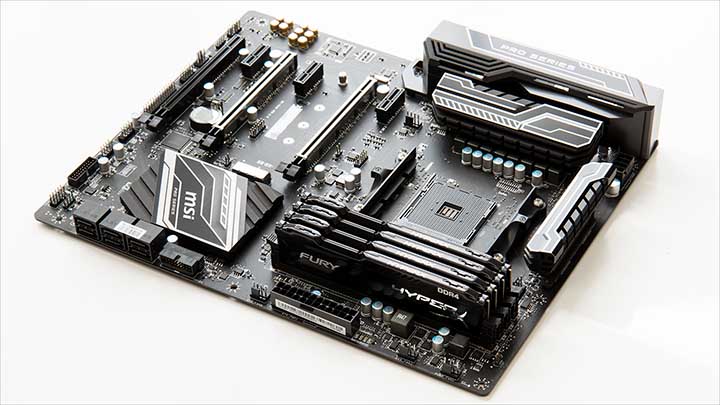 Before we move on, please do not get the wrong idea. These x1 slots are not useless, not even the top most x1 slot. They really do come in handy when say adding in a Wireless NIC controller card, a wireless 208.11AC controller card or even a dedicated soundcard. In fact the top most x1 is darn near perfect place to stick a little x1 802.11AC WiFi card. In other words they are important and do come in handy.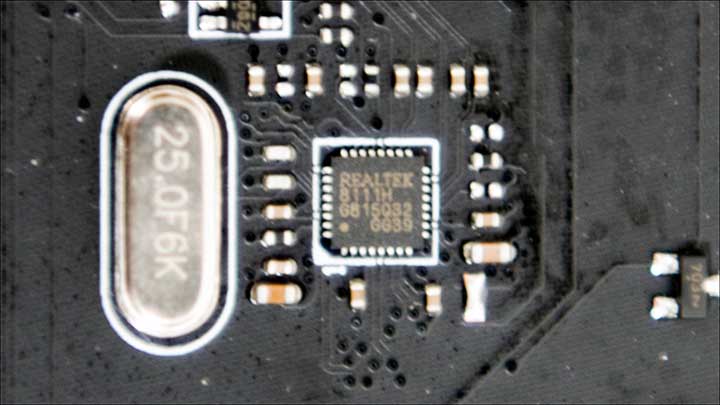 This is especially true of this motherboard as the MSI X370 SLI Plus does not come with an integrated wireless networking solution, a great NIC controller, nor a phenomenal onboard sound solution. Let's tackle them in reverse order from least worrisome to most. The least is the wired Gigabit networking controller. To be precise the MSI X370 SLI Plus makes use of a Realtek 8111H. This is actually a pretty decent NIC but it is arguably not in the same league as Intel i218 or i219 solutions. It gets the job done and for all but the most OCD of users will not be a major detriment. It is however cheaper than Intel based solutions and we assume this – at most – couple dollar savings is why MSI opted for an arguably inferior solution. Once again it is decent, but 'arguably' does not belong on a 'Plus' motherboard that is part of a 'Pro Series'. Instead it is more a entry level solution.
In between 'meh' and 'ok that is an issue' is the lack of WiFi. We are of the opinion all modern motherboards should come with some type of wireless networking solution built in. On the other hand most stink on ice compared to aftermarket options as they usually are only 2×2, or 3×3 at the most. This is because they are low powered solutions that most enthusiasts upgrade PDQ. With that said MSI should have included something in the way of WiFi, as something is always better than nothing.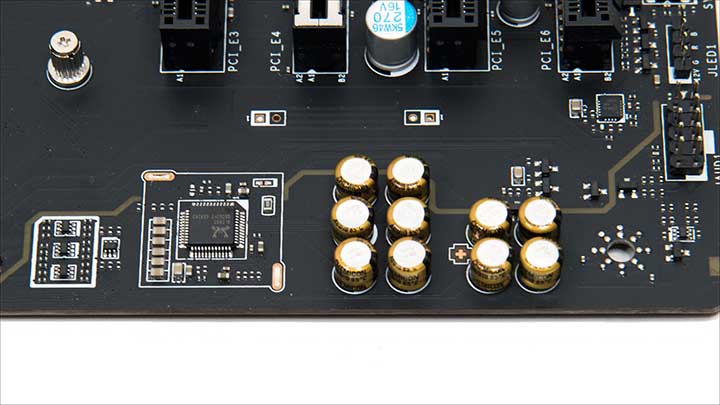 These two issues are debatable in how much you should care but the onboard solution is an issue. MSI certainly cut corners here and it shows. While yes, they do use high grade Chemi-con caps and the entire sound solution is electronically separated from the rest of the motherboard MSI only uses the old ALC892 controller.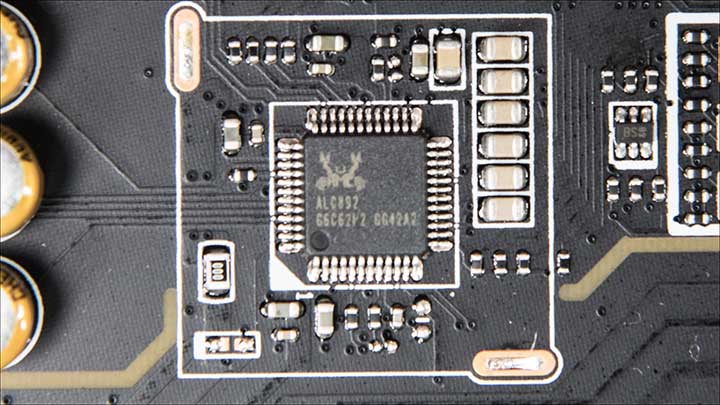 If they really did not want to use the ALC11x0 (eg ALC1150) or newer ALC12xx (eg ALC1220) that MSI Intel Z170 and Z270 motherboards use they could have at least 'upgraded' to the ALC898! Its not that the 892 is 'bad' per se it's just that it is old.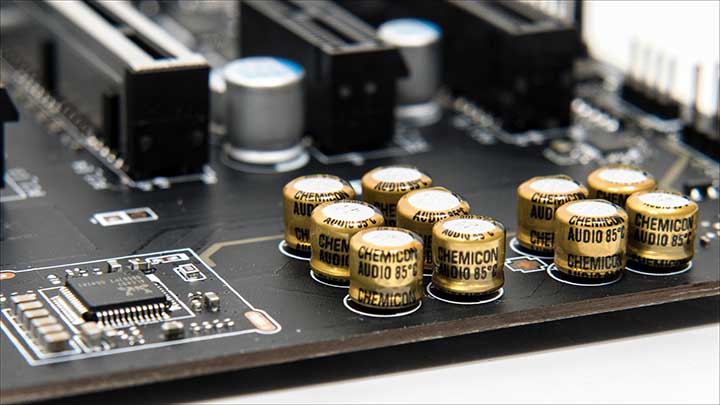 Thankfully the combination of good caps, a decent controller, and electronic separation make for a pretty decent solution. It's not audiophile grade but for anyone using a three-year-old AMD system it still is an upgrade. It's just that it should have been better. Put another way, on a scale of 1 to 10… having this as the biggest concern rates at about a 6.5. It shouldn't be ignored but it should not be considered a deal breaker – even in conjunction with the other two missteps.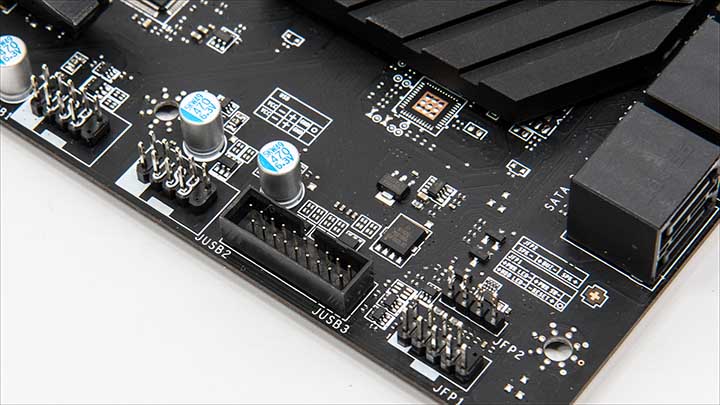 Just below the tertiary x16 PCIe slot you will find the front USB 2 headers (two of them) as well as one of the two USB 3.0 / USB 3.1 Gen 1 front panel headers. If you pay close attention to the USB 2 headers you will notice they are not surrounded by a plastic chassis like the USB 3.1 G1 header. This plastic fascia actually does play an important role as it helps protect the exposed pins and reduces the chances of a front header cable from bending them. We are unsure exactly why MSI felt the need to not include these couple cent pieces of plastic.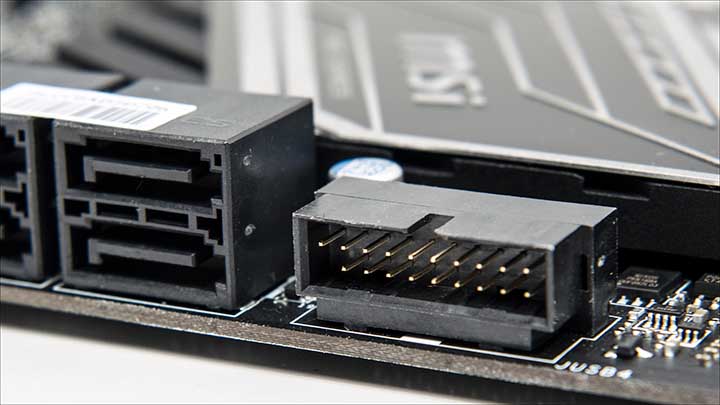 On the positive side MSI has included multiple USB 3.1 G1 headers. The second one is a 90-degree angled header located just to the other side of the six SATA ports. Also on the positive side this board does come with a Mystic Light header so adding a little touch of color is as easy as plugging in a (compatible) LED strip and using the included software.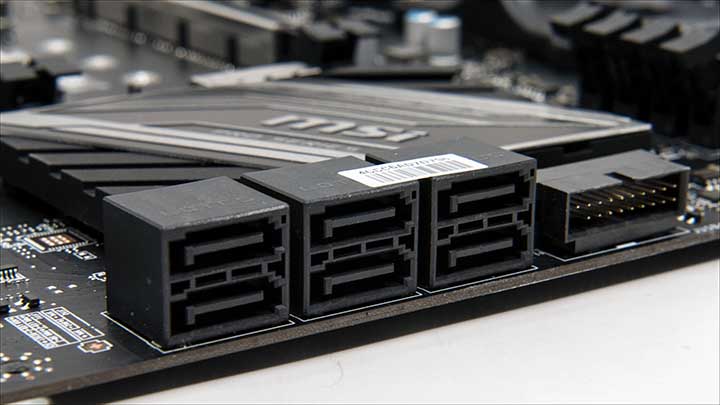 While six SATA ports can be considered a little low by modern standards the fact of the matter is SATA usage is on the decline as more and more opt for PCIe based storage solutions. To be blunt we doubt many will find six to be limiting. The only minor issue with the storage features included is the lack of a U.2 port and a secondary M.2 port. The first is only going to impact the select few who own Intel U.2 form-factored SSDs like the Intel 750 and upcoming 790 (or whatever they decide to call the finalized 3DXpoint based refresh of the 750). The same holds true of only including one M.2 port. In other words, these minor oversights are not going to be noticed by many and yet everyone will notice the nicely reduced asking price of the motherboard.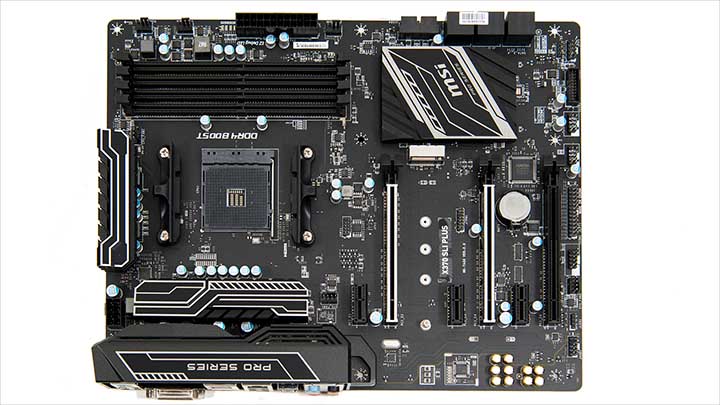 One thing that some enthusiasts will notice is that this motherboard lacks on-board diagnostic LED display, physical power and reset buttons, and OC-Genie…err Game Boost button/dial. This was done to help this board hit its low asking price. Few will care as once the motherboard is installed in a case these features usually become less than useable. With that said we do wish they had included the diagnostics LED as that feature can come in handy when tracking down gremlins.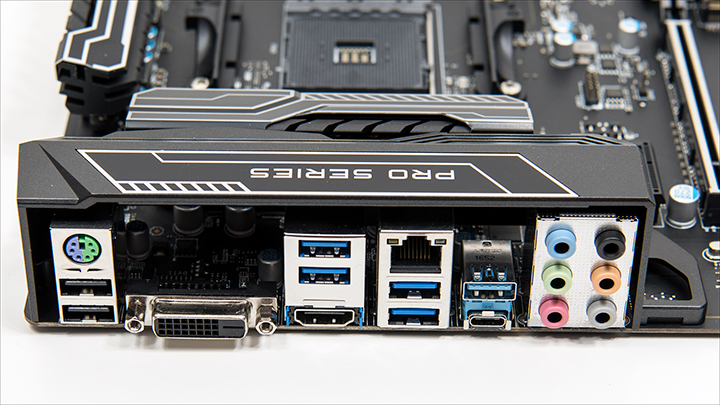 On the positive, and side circling around to the back IO port, most consumers will be impressed with the included I/O options. In addition to four USB 3.1 G1 ports, and two USB 3.1 Gen 2 (one type C port which is also a thunderbolt 3 port, and one type A port) there is also a PS/2 connector for old school connectivity, a single RJ45 1Gbit LAN port, and six audio connectors, just about everyone will notice the included DVDI-D port and HDMI port. These ports are not going to be of use to anyone purchasing a Ryzen 7/5/3… but when AMD gets around to releasing the APU version this motherboard will be a great option. Though we do wish a DisplayPort was also included.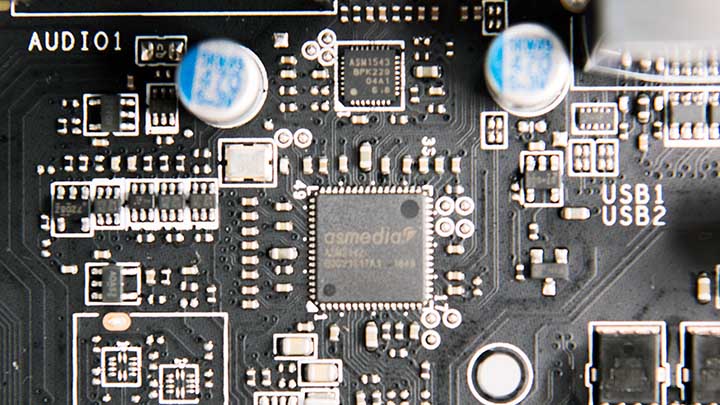 To power the two included USB 3.1 Gen2 ports MSI has opted for the ASMedia AMD2142 controller. This certainly is an interesting choice as AMD X370 + Ryzen combination natively supports it. However this in all likelihood was done so that even future 'cut down' AM4 CPUS would work with this board without the risk of losing Gen 2 speeds. Also, the ASM2142 controller is a very fine controller in its own right. Basically this second generation ASMedia controller allows each port to reach peak Gen 2 speeds even when both are used simultaneously.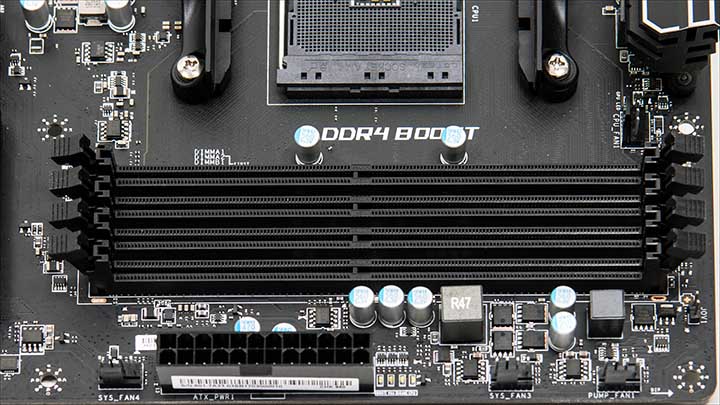 Skipping over the CPU socket area for a moment the four DIMMS of the X370 SLI Plus support speeds of upwards of DDR4-3200+ speeds… though finding a Ryzen CPU with an integrated memory controller capable of handling such speeds and 32GB of memory brings new meaning to the phrase 'golden chip'.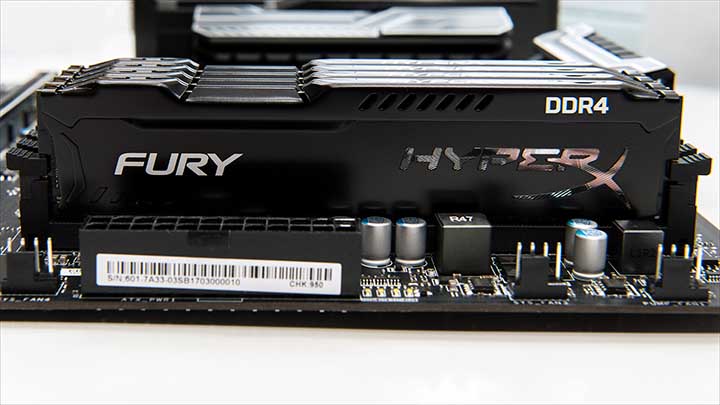 It is however good future proofing as this new Ryzen technology matures it may indeed be able to hit such lofty heights.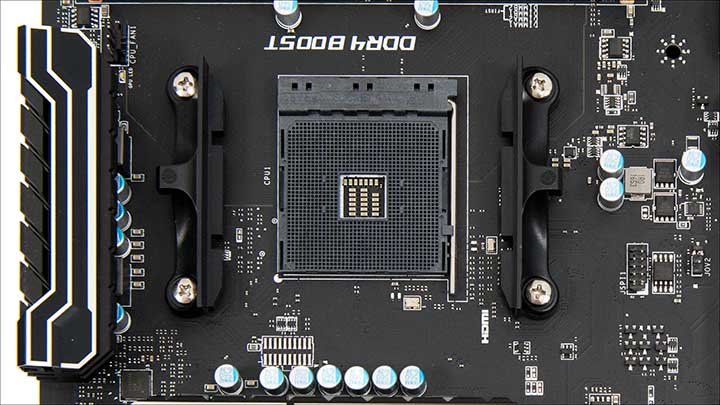 The real star of any motherboard is always the CPU socket area. As you can see the MSI X370 SLI Plus is free and clear of obstruction and should easily handle darn near any sized CPU cooling solution. The only minor issue with this layout is the fact that MSI has not included any backwards compatibility in mounting brackets.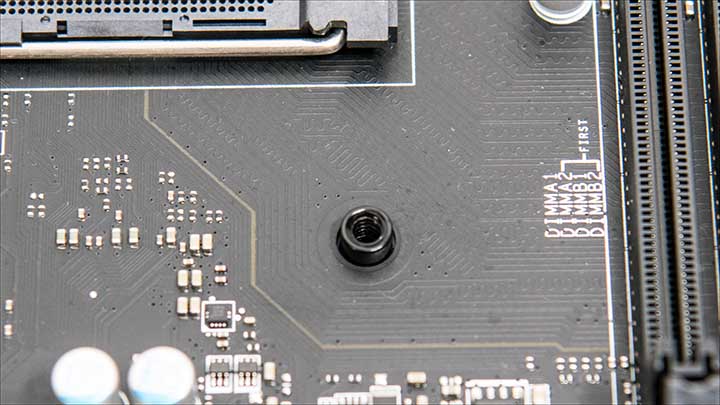 Basically, unlike the ASUS Crosshair VI Hero which comes with AM3 and AM4 bracket holes the X370 SLI Plus only has AM4 mounting holes. This is a short term issue at best, but one that needs to be taken into consideration right now as not every cooling solution offers AM4 brackets – yet. Of course, by the same token if your existing CPU cooling solution uses the stock AMD backplate and top brackets have no fear – these are the same… its just the mounting holes are further apart making AM3 backplates unusable with AM4 boards that lack the holes.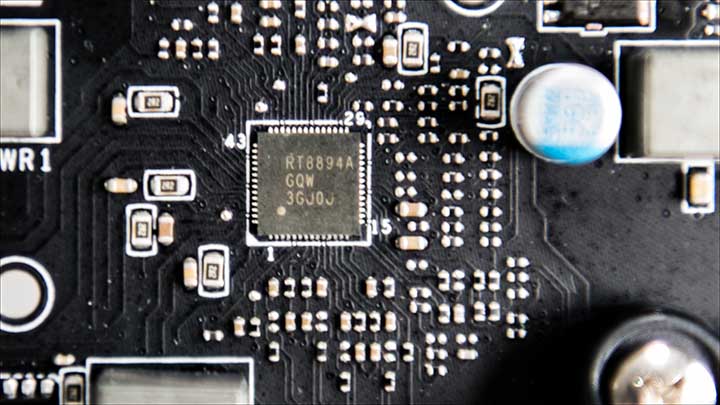 To feed these hungry Ryzen beasts MSI has opted for a digital RichTek RT8894A controller.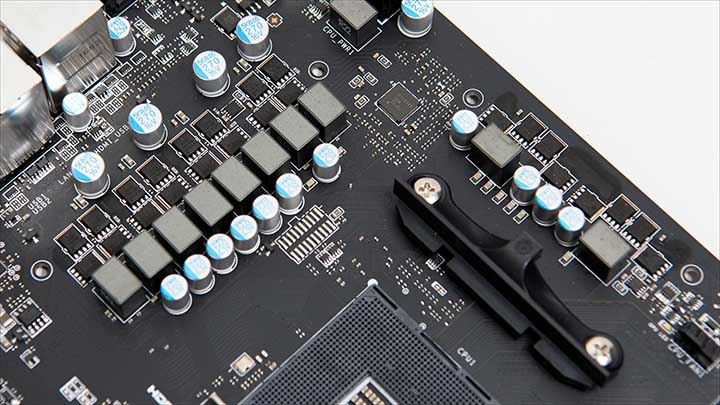 This means that even though there are "10" phases in reality this is a 4+2 design with each of the four vcore phases being doubled up and the vsoc only having a single phase per channel. This is still pretty decent all in all… even if we do wish they had opted for Intersil instead of RichTek .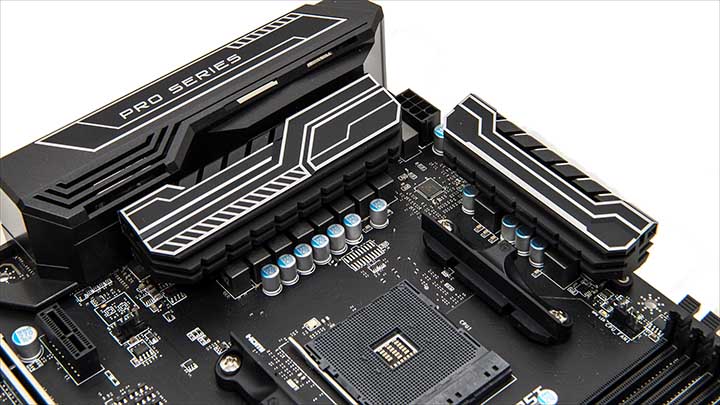 Equally impressive is to cool this very decent power delivery subsystem MSI has opted for two large heatsinks. While they are not connected together via a heatpipe each is mounted the motherboard via screws and not pushpins.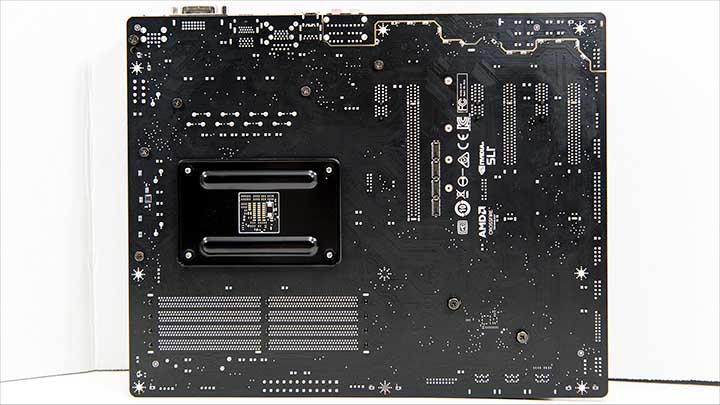 All in all a very decent motherboard for its price point and seemingly a good foundation for a excellent Ryzen system.