A Closer Look at the PNY GeForce GTX 770 XLR8 OC2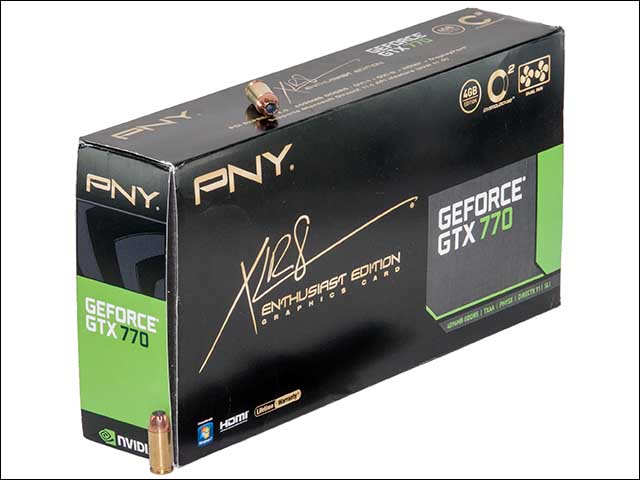 Consumers would be hard pressed to tell the PNY GeForce GTX 770 XLR8 OC2's box apart from PNY's PNY GeForce GTX 780Ti XLR8 we reviewed recently. In fact both shipping containers are dead ringers for each other and only the name printed on the side – and few details on the back – are changed. Of course anyone seriously intent on spending $400 on any device have already done their homework and know what they are buying before they reach the store, so this is a rather minor issue to say the least.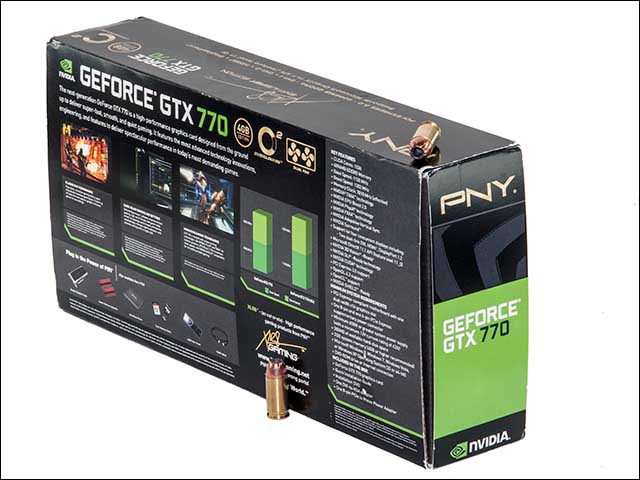 On the positive side while this may increase consumer confusion this classic green and black box is a very nice shipping container. One which delicately treads that line between being bold & aggressive, vs. being garish bordering on outlandish.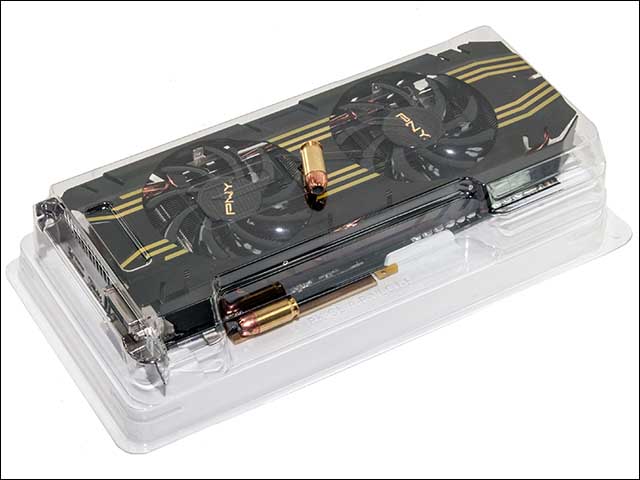 Also like the exterior, when you remove the internal packaging from the shipping container you can see that PNY has opted for the exact same plastic enclosure as their XLR8 780Ti model. This enclosure features a clear top and white bottomed plastic base which both secures the card and further helps reduces the chances of damage to the card happening while in transit. More importantly it doesn't add much weight or increase the overall dimensions of the shipping container. Something that anyone ordering online will like as it will help keep shipping costs down.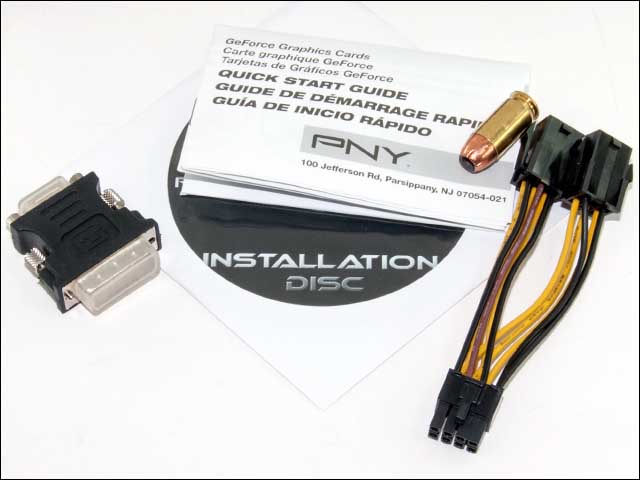 In what hopefully is the end of the similarities, the included accessories are a touch sparse. In fact, they are the same as which accompanies a XLR8 780 OC and the XLR8 780Ti models. In grand total you will get a single 8pin PCI-e adapter, a single digital to analog port adapter, a quick start guide and a CD with the necessary drivers for the 780Ti XLR8. Considering the more frugal price point of this card this is somewhat acceptable, but more value orientated or not we would have liked to have seen a much better and varied selection of accessories.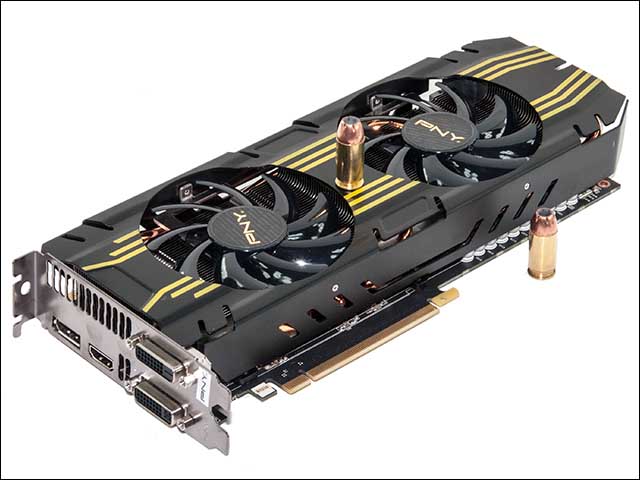 On just a cursory glance the GeForce GTX 770 XLR8 OC2 looks a lot like a scaled down version of the GeForce GTX 780 XLR8 OC and to a certain extent that is true. Both units have been paired with a custom heatsink, both use a single 6-pin and 8-pin power connectors, both have the same output selection, and come with tri-SLI capabilities. Both even have the same attractive and bold black with yellow racing stripes aesthetics. This however is where the similarities end and the to be perfectly candid these similarities are rather misleading as the 770 has been designed with different goals in mind from that of the 780 OC.
First and foremost amongst the differences is the heatsink itself. While yes it is a 'down-draft' style cooler – rather than the stock NIVIDIA blower – the GeForce GTX 770 XLR8 OC2's relies upon two 90mm fans instead of two 80mm + one 90mm fan arrangement found on the XLR8 780 OC card. Also unlike its larger 780 OC brethren, the PNY GeForce GTX 770 XLR8 OC2 relies upon five 8mm heatpipes in one massive cooling tower configuration that runs the entire length and width of this card.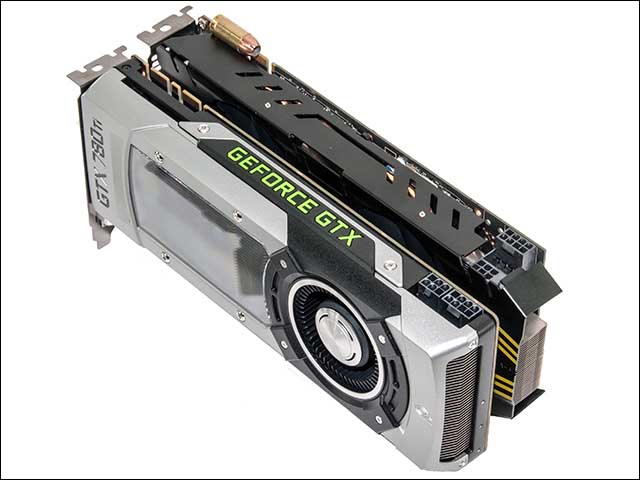 While rather large and impressive looking, it is still smaller than the 780 OC's design and this smaller stature is reflected in the smaller footprint. Instead of an approximate 11.8 inches of room, this card only takes up 10.63 inches. By the same token the GeForce GTX 770 XLR8 OC2 is still a rather large card and because of its longer than necessary cowling it is slightly longer than a stock GeForce GTX 780. On the positive side PNY was able to keep this custom cooler to a two slot form factor. This will make SLI'ing a pair – or more – of these cards a lot easier on most motherboards and the added room will help keep cool air reaching the fans.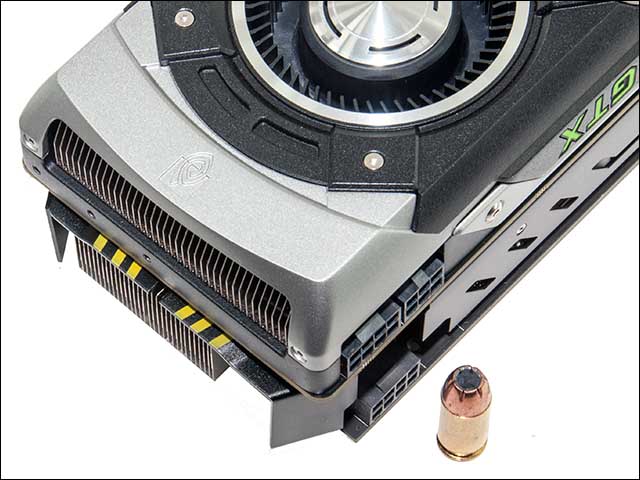 Also on the positive side the reason PNY made the cooler as long as they did is because they started with a blank slate. Instead of using the 770's stock PCB they instead opted for a custom PCB which can provide more clean and stable power for the GK104 core and Samsung DDR5 VRam. The engineers did this because they have pushed this card as hard and as fast as you are likely to find this side of custom 'one of' designs. Instead of a GK104 core which runs its 1536 Cuda Cores (with 32 ROPs and 128 Texture Units) at a base clock of 1046 and a boost clock of 1085, PNY have applied a [i]double digit percentage[/i] factory overclock and have their 770 XLR8 OC2 running with a base clock speed of 1150Mhz and a boost clock which tips the scales at 1202MHz! On the memory side of the equation, the GeForce GTX 770 XLR8 OC2 still has – by necessity – a 256-bit bus but instead of having 2GB running at an effective speed of 7,000Mhz this card has four Gigabytes of DDR5 VRAM running at 7012MHz. This gives the GeForce GTX 770 XLR8 OC2 a memory bandwidth of 224.3GB/s.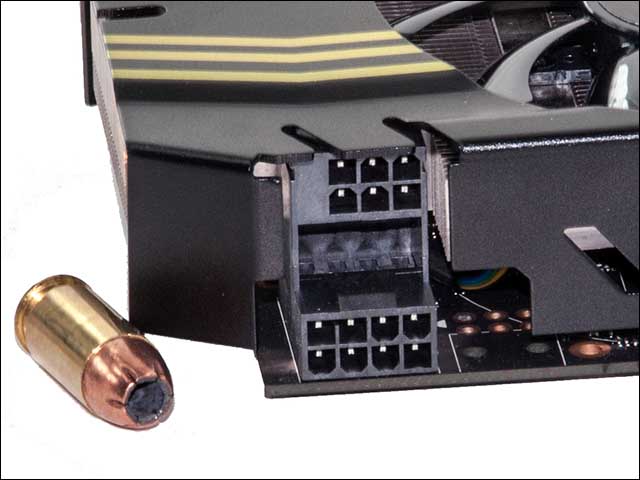 While PNY have factory overclocked this card well beyond stock settings, they have been able to keep power requirements and TDP within check. As with a stock 770, the GeForce GTX 770 XLR8 OC2 has a TDP of 230watts and requires only a single 6 and single 8 pin power connector. Interestingly enough instead of the typical side by side configuration PNY opted for the unusual stacked configuration with the 6-pin power port being slightly recessed from the bottom 8-pin.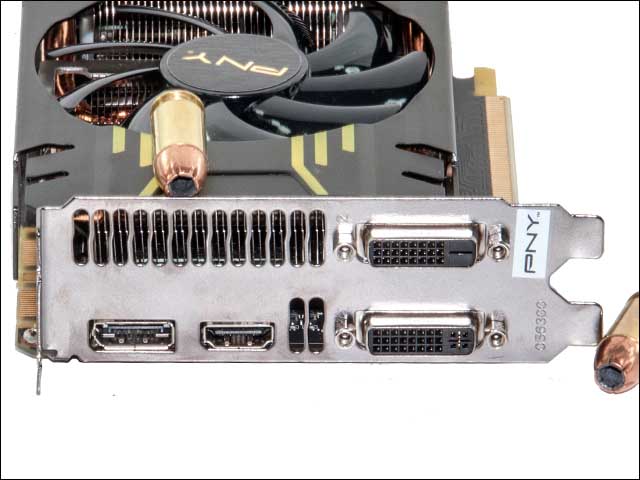 As mentioned previously the PNY have not messed with NIVIDIA's reference output selection. In fact this rear two slot bracket is reference NVIDIA through and through. This means the same selection of two DVI connectors stacked above the other, a single full size HDMI, and a single DisplayPort connector. Also like any reference design the rear exhaust ports consist of one row of vents plus two additional vents below the row. While some hot air will escape via these vents they are not entirely needed as this cooler is meant to exhaust the lion's share of heat inside your case. As such we would recommend a good case with good internal air flow. Doing otherwise will negate a lot of the benefits associated with custom coolers and this high performance card will thermally throttle itself within a safe operating temperature range.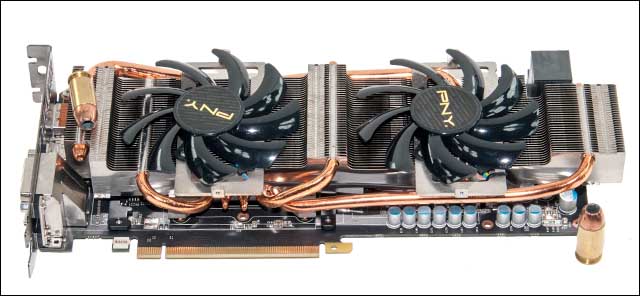 Oddly enough, PNY has once again decided against using a backplate for the PCB but they have also not included a backplate for the heatsink. This is odd as this is not a light heatsink and a metal reinforcing bracket around the core itself would have not raised an eyebrow. We assume PNY felt the stock screws did not need reinforcing, but it certainly is less than optimal nonetheless.