If you are reading this review you have already started to think long and hard about getting a good mod that can offer a lot of the abilities of the more expensive options… just without the expensive price tag. If you are like most knowledgeable people this has lead you to the SMOK Alien 220W device. On the surface the SMOK Alien 220 (or 'Alien' as we are going to call it in this review for brevity's sake) does seem to check all the boxes. This is a small mod that offers dual 18650 battery abilities, up to 220 watts of power, a easy to use interface and pretty decent Temperature Control abilities. It even comes in a number of color options so that you can have a mod that fits your personality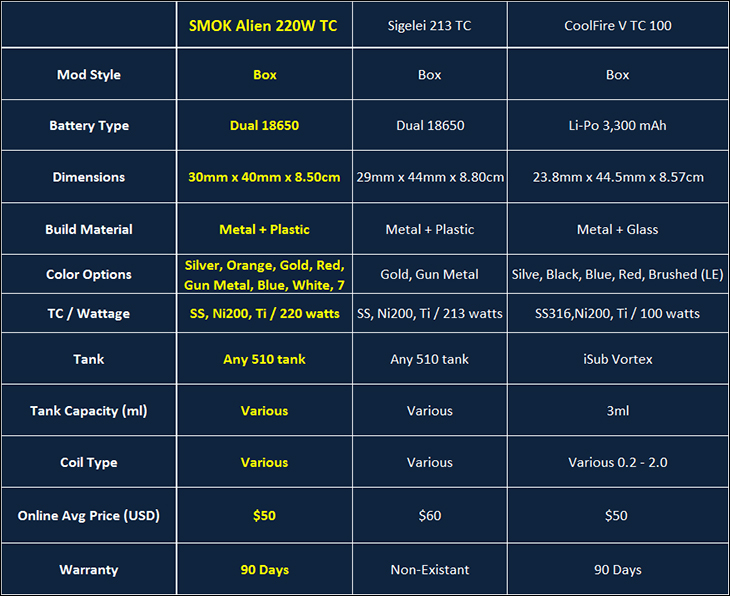 More importantly the Alien comes in to distinct packaging options: a full 'kit' that comes with a 'Baby' Beast tank, and for those not interested in paying for another tank they probably wont use a mod only kit. As we are RTDA'ers and have very little interest in using off the shelf replacement coils this additional option really peaked our interest. Enough so that we started to further investigate it what pushed things over into the 'have to' category was the price. While the kit version is a very reasonable $70, by opting for the non-kit version vaping enthusiasts can save a noticeable bit of money and only have to pay $50 for the Alien itself.
A mere fifty bucks for a 220 watt mod that is downright svelte and offers SMOK's incredibly easy to use firing bar? Yes that sounds like one hell of deal. Enough so that we personally purchased this model just to see if it could live up the rather significant hype that has surrounded this particular device since its release.
As is our want, we will not only be going over how it performs and the pros and cons associated with it we will also be giving you a step by step guide on how to setup, configurated and even update the firmware. In addition to that we will highlighting any issues that we found and giving our recommendations on how to maize these issues. So let's fill up our tank and get this vaping party started!