It has been our experience that buyers fall into two camps when it comes to mega-battery based phones. Those who either love them or those or do not. At the forefront of this market niche is ASUS with their ZenFone Max series. Last generation we took a long hard look at the ZenFone 4 Max and found it to be a decent phone that did make a few compromises in order to offer buyers massive battery life at a rather reasonable price. With the recent release of the ZenFone series we thought that the all new ZenFone Max Plus would be a great primer to see what exactly ASUS has changed to their winning formula and see if ASUS has minimized the limitations of their phone's design.
On paper the ZenFone Max Plus certain does seem to tick most of the right boxes. On the battery size of the equation they have bestowed this phone with a large 4,130mAh batter, which promises to provide days between charging. That certainly is large… but is not as good as the last generation's 5,100 battery. On the positive side, the ZenFone Max Plus is now weight has been trimmed down nicely. Specifically even though it has an all metal construction the ZenFone Max Plus only tips the scales in at 160 grams.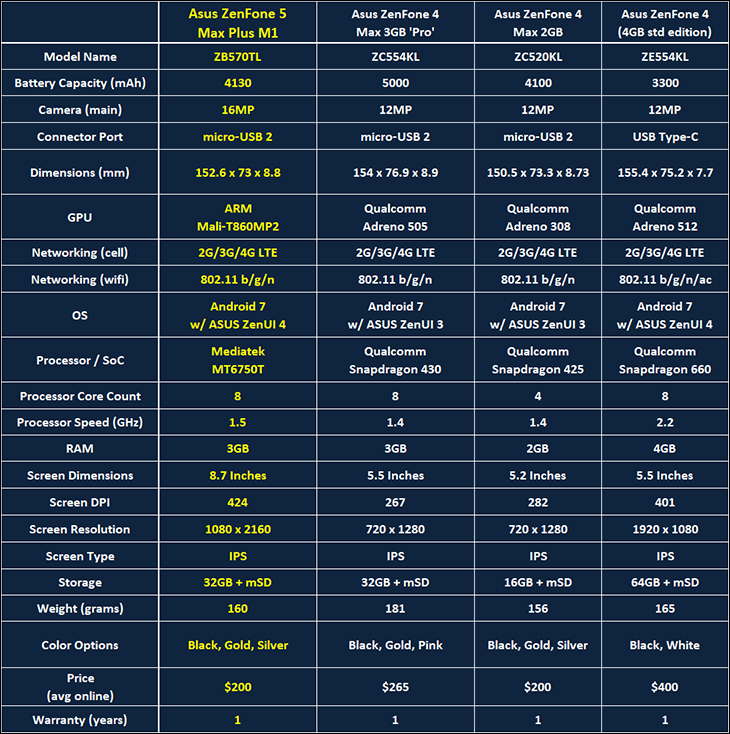 The real changes however are in what ASUS has paired this relatively large battery too. First up, gone is the mediocre 720P (720×1280), 5.5-inch screen that (dis)graced the ZenFone 4 Max 3GB. Instead the ZenFone Max Plus gets a rather impressive – for its price range – '2K' screen (1080×2160) that promises to be much, much easier to use, much clearer (a whopping 424PPI!), and offer fewer compromises compared to its predecessor in the visuals department. In addition to its better resolution and larger screen size of 5.7-inches, the form-factor has also changed. Instead of 16:9 it uses the newer 18:9 which has proven to be more optimal for phones than the 'TV' 16:9 standard. Better still is the screen is almost edge to edge with very little black bars at the top and bottom!
Under the hood ASUS has also upgraded both the graphics and general processing power the ZenFone Max Plus has on tap. Gone is the SnapDragon 430 + Adreno 505 combination, and instead they have opted for the MediaTek MT6750T with Mali-T860 MP2. This processor + GPU combination is much faster (8 cores @ 1.5GHz / 2 cores @ 700MHz) than any 'Max' phoned released to date, so while not bleeding edge by any stretch, it is indeed a nice improvement. We will go over exactly what this upgrade actually means for real world usage but the ZenFone Max Plus M1 does promise to be better than ever before.
Of course, going hand in hand with all these upgrades is one obvious downside: the asking price. To be precise a last generation ZenFone 4 Max 3GB can still be picked up for about $150, whereas the new ZenFone Max Plus 32GB capacity edition will set buyers back $200. Two hundred is still very reasonable, but the real questions are not only if the ZenFone Max Plus makes for a more well-rounded option, but if the improvements are able to justify its asking price. Put another way, in making the ZenFone Max Plus more appealing to the general buying public have they undermined what made the ZenFone 'Max' series such a hit with its intended demographic? Let's find out.